Brent Yarina, BTN.com Senior Editor,

July 27, 2012

Bill O'Brien created quite the stir when he hinted at possible Penn State uniform changes during Thursday's first session of Big Ten Media Days. With the recent changes going on at Penn State, it seems plausible that the team would entertain such a decision.

Earlier this week, I proposed the question in a post. And on Friday, I asked Penn State's Jordan Hill and John Urschel about the rumor. See their response in this post, plus get a look at all the Big Ten uniform and helmet changes.

Urschel's response to Penn State possibly changing its uniform:

"Anything involving the uniforms, that is between the team and the coach," he said. "That's it."

Hill wasn't as defensive, saying: "I can't see it, but if it happens it happens," he said. "I'm not going to complain."

O'Brien, meanwhile, continues to tell media to wait until Sept. 1, Penn State's season opener, to see if the team makes any changes across the program.

OK, so we'll just have to wait and see on Penn State. Here's a roundup of Big Ten uniform and helmet changes for the 2012 season.

BIG TEN
As posted a couple times on Clothes Call, fans can expect to see a whole lot more of the "B1G" logo this fall. All Big Ten teams will wear a "B1G" patch on their jerseys and every field will feature the logo at the 25-yard lines. See the logo on Michigan's jersey below:
ILLINOIS
The Illini won't make any cosmetic changes in Year 1 of the Tim Beckman era, however they are sharing what they could look like in the 2013 season. The sports information directors said the team plans to get new uniforms and helmets next season. One of the helmet options, a sweet blue matte one, was on display Friday.
INDIANA
The Hoosiers threads make them look a lot like Oklahoma, Kevin Wilson's old employer. The white helmet they debuted last season mixed it up a bit, and the team said it will bring back those lids for big games this season. They'll also debut new gloves.
IOWA
The Hawkeyes aren't making any changes to their uniforms or helmet, but they will wear throwbacks (pictured below) Sept. 8 against instate rival Iowa State to commemorate the 1921-22 back-to-back Big Ten championship teams that went a combined 14-0. They'll also wear yet-to-be-released Nike Pro Combat uniforms Nov. 10 against Purdue.
MICHIGAN
The Wolverines are mixing it up a season after several cosmetic changes were made in Brady Hoke's first campaign. For starters, there's the alternate uniform for the season-opening heavyweight battle vs. Alabama. On top of that, Michigan is getting rid of the numbers on the helmet (good move, because they looked too cramped, too neon) and going back to the blue facemask. The Wolverines sampled a gray facemask last season.
MICHIGAN STATE
The Spartans aren't making any changes to their uniforms or helmet, and they don't expect to wear the Nike Pro Combat uniform they debuted last season. You know, this one.
MINNESOTA
If you haven't watched it yet, check out this YouTube video of Minnesota's new threads for the 2012 season:
And below is a picture of the program's new maroon matte helmet. The picture also reveals Minnesota's "B1G" patch, which sits below the "GT 51" patch in honor of late ex-teammate Gary Tinsley. See a better picture of the Tinsley patch.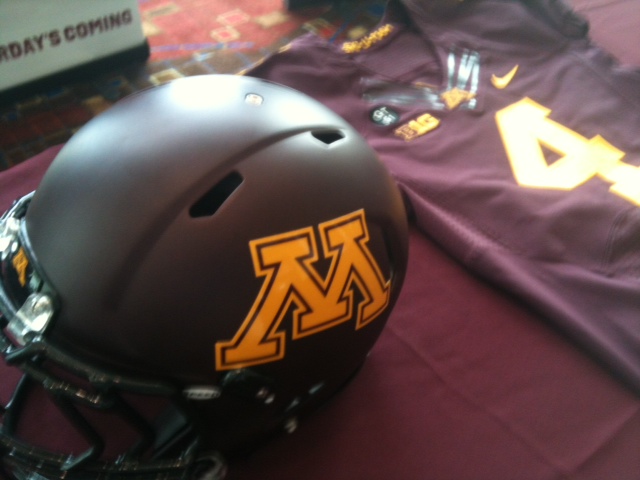 NEBRASKA
While the Huskers won't make any changes to their traditional look, they will wear an alternate uniform when they host reigning Big Ten champ Wisconsin on Sept. 29. Yes, that's an all-red uniform – the pajama jokes are already out there – with a black helmet. The jersey, which prominently features Nebraska's "N" reminds me of the one Michigan wore last season against Notre Dame.
NORTHWESTERN
The Wildcats unveiled their new Under Armour uniforms Thursday before Big Ten Media Days kicked off. You can see the entire new ensemble here. It's a bold look, what with the "Northwestern Stripe" on the front and back, but it definitely sets them apart more than last year's look. And there's a lot of detail involved with this new look. The jersey numbers, for example, have the outlines of the bricks that comprise the buildings on campus.
OHIO STATE
The Buckeyes have no changes to their uniforms or helmet in 2012.
PENN STATE
The Nittany Lions are adding player names to the back of their jerseys. This is something that has never happened at Penn State, so it will take some getting used to.
PURDUE
According to the sports information directors, Purdue, which changed uniforms prior to the 2011 season, is adding the new Purdue train to the bottom of its jersey collar. Here's what the new train looks like.
WISCONSIN
The Badgers will join the Huskers in wearing adidas alternate uniforms for their Big Ten-opening tussle Sept. 29, and the two designs are pretty similar.
BTN.com web editor Brent Yarina writes the Clothes Call features. Send him your Big Ten fashion tips here, find all of his work here and follow him on Twitter at @BTNBrentYarina.