Brent Yarina, BTN.com Senior Editor,

April 5, 2014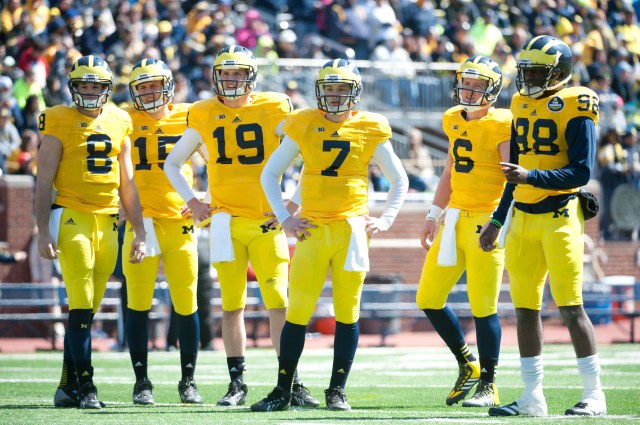 The way uniforms change nowadays, nothing is out of the question. Like, could adidas one day outfit the Michigan football team in an all-maize uniform? Possibly, although the school and company have not announced any such plans. For what it's worth, Devin Gardner and the rest of the quarterbacks were in all-maize for Saturday's annual spring game.
[ MORE: Watch all of our Michigan spring game highlights, interviews ]
This is not exactly news, but it is interesting, especially considering the maize tops featured the "B1G" patch and nameplates. Gardner's jersey even included his familiar Tom Harmon patch. So, for all intents and purposes, these jerseys are game ready – even if they don't match the pants.
Again, this probably means absolutely nothing. But it is something to keep in mind, whether it be this year or in the future.
For the curious minds, Michigan quarterbacks wore orange tops last year and regular tops in 2012 and 2011, with the latter featuring pink-tinted numbers.
| | |
| --- | --- |
| About Brent Yarina | BTN.com senior editor Brent Yarina covers football and men's basketball for BTN.com. He writes the popular uniform feature "Clothes Call," which also focuses on the latest cosmetic changes across Big Ten arenas and stadiums. Read all of his work here. You can subscribe to Yarina's RSS feed and follow him on Twitter @BTNBrentYarina. |