Brent Yarina, BTN.com Senior Editor,

May 3, 2016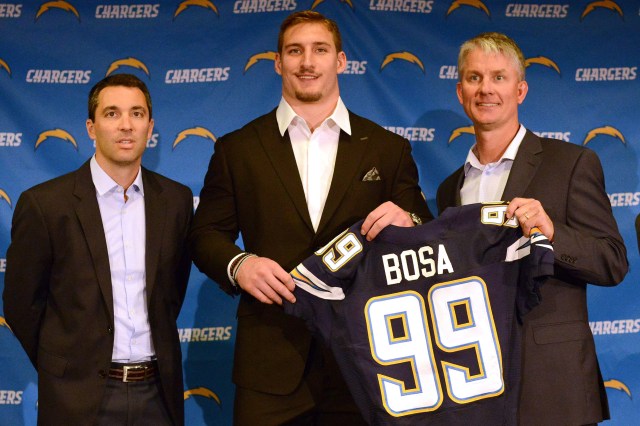 With the 2016 NFL Draft in the books, several of the 47 Big Ten selections are being assigned their pro numbers.
[ MORE: Round 1 Big Ten picks | Rounds 2-3 | Rounds 4-7 ]
Check out the full list below. Missing numbers will be updated as they are announced. Know a missing player's number? Please leave it as a comment at the bottom of this post.
ROUND 1
3. Joey Bosa (Ohio State), Chargers – 99
4. Ezekiel Elliott (Ohio State), Cowboys – 21
8. Jack Conklin (Michigan State), Titans – 78
10. Eli Apple (Ohio State), Giants – 28
16. Taylor Decker (Ohio State), Lions – 68
20. Darron Lee (Ohio State), Jets – 50
ROUND 2
43. Austin Johnson (Penn State), Titans – 94
44. Jihad Ward (Illinois), Raiders – 95
47. Mike Thomas (Ohio State), Saints – 13
48. Jason Spriggs (Indiana), Packers – 78
51. Christian Hackenberg (Penn State), Jets – 5
58. Sean Davis (Maryland), Steelers – 28
61. Vonn Bell (Ohio State), Saints – 48
ROUND 3
65. Carl Nassib (Penn State), Browns – NA
67. Maliek Collins (Nebraska), Cowboys – 96
69. Yannick Ngakoue (Maryland), Jaguars – 91
75. Shilique Calhoun (Michigan State), Raiders – 91
80. Adolphus Washington (Ohio State), Bills – 92
85. Braxton Miller (Ohio State), Texas – 13
86. Leonte Carroo (Rutgers), Dolphins – 88
94. Nick Vannett (Ohio State), Seahawks – 81
95. Graham Glasglow (Michigan), Lions – 60
96. Vincent Valentine (Nebraska), Patriots – 99
ROUND 4
99. Joe Schobert (Wisconsin), Browns – NA
100. Connor Cook (Michigan State), Raiders – 8
102. Joshua Perry (Ohio State), Chargers – 53
106. Eric Murray (Minnesota), Chiefs – 21
115. De'Vondre Campbell (Minnesota), Falcons – 59
130. Alex Lewis (Nebraska), Ravens – 72
132. Willie Henry (Michigan), Ravens – 69
137. Dean Lowry (Northwestern), Packers – 94
139. Cardale Jones (Ohio State), Bills – 7
ROUND 5
147. Quinton Jefferson (Maryland), Seahawks – 92
150. Jordan Howard (Indiana), Bears – 24
ROUND 6
176. Andy Janovich (Nebraska), Broncos – 32
187. Nate Sudfeld (Indiana), Redskins – 2
189. Anthony Brown (Purdue), Cowboys – 36
191. Jake Rudock (Michigan), Lions – 14
197. Dan Vitale (Northwestern), Buccaneers – 33
198. Derek Watt (Wisconsin), Chargers – 34
202. Anthony Zettel (Penn State), Lions – 69
204. Jordan Lucas (Penn State), Dolphins – 21
213. Aaron Burbridge (Michigan State), 49ers – 13
221. Ted Karras (Illinois), Patriots – 75
ROUND 7
224. Donavon Clark (Michigan State), Chargers – 63
245. Clayton Fejedelem (Illinois), Bengals – 42
248. Austin Blythe (Iowa), Colts – 63