BTN.com staff,

March 6, 2015

The 2015 Big Ten Wrestling Championships brackets are out! The 2015 Big Ten Wrestling Championships brackets are out!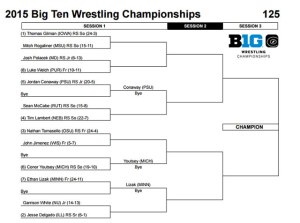 Click the image to the right to get the full bracket.
Starting Saturday morning and continuing through Sunday afternoon, BTN is offering live coverage of the 2015 Big Ten Wrestling Championships from Columbus this Saturday and Sunday. Earlier this week, we posted video previewing each weight class.
Then we also spoke with BTN wrestling analyst Shane Sparks about a number of storylines for this weekend. In this post, we have a few more followup questions for Sparks.
BTN.com: Favorite Big Ten singlet?
Sparks: I like simple and my favorite color is red. For that reason I'll go with Nebraska. I like the red with the white ?N?. Penn State is a close second. I like the white around the waist.
BTN.com: Most passionate Big Ten fan base?
Sparks: Gotta go with Iowa or Penn State. Both have done a great job.
BTN.com: Best coach interview?
Sparks: Tom Ryan.
BTN.com: Best wrestler interview?
Sparks: Robert Kokesh or Mike McMullen.
BTN.com: Mike Evans has the best mustache since ??
Sparks: Tom Selleck as Magnum, PI.
BTN.com: Will a Big Ten team win the NCAA title for the ninth straight year?
Sparks: With the Big Ten having three of the top four ranked teams in the country I will take the odds and say yes, but this very well could be the year that Missouri takes home the team trophy. It is going to be a dog fight!!
Here's the home for the 2015 championships, hosted by OhioStateBuckeyes.com.
Learn how to watch all of the action on TV and online in this post. On Saturday, all mats will be covered live on BTN Plus, our subscription package via BTN2Go. It starts with the 10 a.m. ET sessions and runs through the 6 p.m. sessions (see the links below). On Sunday, all mats from the 1 p.m. sessions through the consolation matches will again be covered live on BTN Plus on BTN2Go.