Tom Dienhart, BTN.com Senior Writer,

November 2, 2013

EAST LANSING, Mich. — Michigan State wanted to deliver a message. Mission accomplished ? loud and clear.

All season long, defense has been the calling card of the Spartans team. Heck, it has been the last few years. The unit was at his suffocating best Saturday vs. Michigan in backstopping a 29-6 victory. Check out some of these numbers for the Michigan offense.

Rushing yards: minus 48

Total yards: 168

Third-down conversions: 2-of-13

Zero touchdowns

And on it went all afternoon on a soggy day in Spartan Stadium.

[ MORE: Video: Spartans dance with Paul Bunyan Trophy in locker room ]

?We've had a lot of respect for their defense all week going in to this game,? said Michigan coach Brady Hoke. ?I talked to Max Bullough afterwards because he's one of the guys I like to watch play football. So we have a lot of respect for them.?

So, if you are scoring at home-and I know they are in East Lansing and Ann Arbor-MSU has won five of the last six meetings. The Spartans? last such run of dominance vs. Michigan came when they won six of seven from 1956-62. This is the first time ever MSU has won three straight over Michigan at Spartan Stadium.

But more importantly, MSU remains firmly in charge in the Legends Division with an 8-1 overall record and 5-0 Big Ten mark. The lone team in shouting distance of MSU is Nebraska, which needed a last-second Hail Mary to beat Northwestern and remain a game behind the Spartans with a 3-1 league mark and 6-2 overall record. Every other team in the Legends has at least two losses. And, how delicious is this: Michigan State?s next game is at Nebraska on Nov. 16.

?I can just tell you that we do what we do,? said Mark Dantonio. ?There are guys that they have on their football team that we haven't offered, let's get that straight right now. There are guys on our football team that they've never offered, so it's what you do with the players that come and what they're belief system is. Our guys are believing.?

[ MORE: Spartans one of several B1G teams to wear new look Saturday ]

And playing very well. It was pure and absolute dominance by the best defense in America. Time and again, Michigan quarterback Devin Gardner dropped to pass. And time and again, he was under duress. The Spartans sacked Gardner seven times and pressured him countless others. He was dirty, battered, abused and exhausted in the aftermath, completing just 14-of-27 passes for 210 yards and a pick.
But it was the rushing defense that was especially impressive. MSU entered the game allowing 54.9 yards per game on the ground to pace the Big Ten. The minus-48 allowed today was the fewest Michigan has notched in a game ? ever. The last two seasons, Michigan has failed to score a TD vs. Michigan State.
How much fun would it be to see this Michigan State defense take on the Ohio State offense? It could happen in the Big Ten championship game if the Buckeyes and Spartans can hold serve the rest of the season. Ohio State has to navigate at Illinois, Indiana and at Michigan. Michigan State still has the aforementioned game at Nebraska and also games at Northwestern and vs. Minnesota.
Each unit entered today No. 1 in the Big Ten in their respective category. OSU averages 47.2 points and 517.2 yards; MSU allows only 12.2 points and 215.5 yards. The clash of the strengths would make for some tremendous theatre. Braxton Miller, Carlos Hyde, Philly Brown, Jack Mewhort vs. Max Bullough, Shilique Calhoun, Denicos Allen and Darqueze Dennard. It doesn?t get any better than that in the Big Ten.
The architect of all of this Michigan State defensive mayhem is coordinator Pat Narduzzi. His defense is one of just five NCAA Football Bowl Subdivision schools, along with Alabama, Florida State, Florida and LSU, to rank among the top 10 nationally in total defense the past two seasons. In addition, MSU and Alabama are the only two programs in the country to rank in the NCAA FBS Top 15 the past two seasons in total defense, rushing defense, passing defense and scoring defense.
[ MORE: Watch Week 10 Big Ten football highlights ]
With all of that success, Narduzzi has become one of the hottest coaching commodities in the nation, a fast-riser who appears destined to become a head coach soon. Very soon. But before then, the 47-year-old Narduzzi and the Spartans have work to do: win out and advance to the school?s second Big Ten title game in three seasons. Win that, and MSU will be in line to play in the Rose Bowl for first time since after the 1987 season. The only Big Ten schools with longer Rose Bowl droughts are Indiana and Minnesota.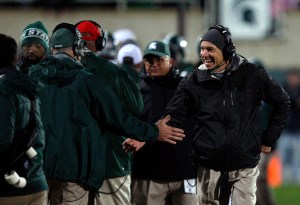 The MSU offense also deserves credit in this big win over Michigan. The unit has been maligned often in 2013. And with good reason, as the offense was looking for answers at quarterback and running back.
But on this classic, gray November Saturday, the Spartan offense played with power-thanks to good play by the quarterback and running back.
?We believe on offense,? said Dantonio.? We've got a quarterback who's resilient, who can make plays. He's young; he's still growing with a big opportunity to grow this game. We've got our receivers catching the football. We've got a running back running, a couple guys in there, and our offensive line is playing pretty well.?
[ MORE: Did you see how Nebraska beat Northwestern? Incredible! ]
Connor Cook hit 18-of-33 passes for 252 yards with a touchdown and pick. Jeremy Langford rushed for over 100 yards for a fourth game in succession, carrying 26 times for 120 yards and a score for an offense that had 142 yards rushing and 394 overall. Add it all up, and it was enough for the Spartans to post their most lopsided victory in this hate-filled rivalry since a 34-0 win in 1967.
What?s next for Michigan? The Wolverines likely will finish their third season under Brady Hoke short of his expectations: winning the Big Ten. Better days are ahead. Michigan is a young team, not ready for what it saw on this day in this environment. The Wolverines can do MSU a big favor by beating visiting Nebraska next Saturday. Wouldn?t that be ironic if it happens?
?I thought our crowd came to play today,? said Dantonio. ?They had their game face on from the get go. I thought they were passionate. They were excited and it was deafening down there. You couldn't hear. It was a great crowd by our Spartan Nation. I almost tweeted out, `Rise up, Spartan Nation.' Instead, I think I'll tweet, `Walk the streets…but don't burn any couches.' ?
Regardless of the Tweet, the message sent by Dantonio and his team on this day was clear: Michigan State is the team to beat in the Legends. And it may not be caught.
| | |
| --- | --- |
| About Tom Dienhart | BTN.com senior writer Tom Dienhart is a veteran sports journalist who covers Big Ten football and men's basketball for BTN.com and BTN TV. Find him on Twitter and Facebook, read all of his work at btn.com/tomdienhart, and subscribe to his posts via RSS. Also, send questions to his weekly mailbag using the form below and read all of his previous answers in his reader mailbag section. |