Tom Dienhart, BTN.com Senior Writer,

August 7, 2013

COLUMBUS, Ohio – There was a lot to like about Ohio State today. Many NFL teams concur, as there were close to a dozen on hand at Wednesday's practice to watch the second-ranked Buckeyes work out.

Before camp began, there was a lot to like about the power-spread offense, with quarterback Braxton Miller back along with a raft of veteran receivers and running backs. But the emergence of true freshman running back Dontre Wilson has been one of the biggest early stories.

[ PROGRAM ALERT: Watch the Ohio State Preview Show at 8 p.m. ET Tuesday on BTN/BTN2Go ]

On this day, Wilson made several exhilarating runs that made defenders look hapless. Bottom line: Wilson is the most exciting player on this roster, a true difference-maker who almost assuredly will play a key role. OSU has to get the Texas speed demon the ball.

Miller looked fairly sharp today on most of his passes, though he seemed to struggle to consistently hit the longer routes. Offensive coordinator Tom Herman told me after practice he would like to see Miller get his throws over the middle up a big higher. Some were batted down today.

[ RELATED: Read our guys' tweets from today's Ohio State practice ]

The Buckeye receiving corps will get a boost from true freshmen James Clark and Jalin Marshall, who made a nice touchdown grab today. And the duo of Jeff Heuerman and Nick Vannett is an underrated tight end tandem. Tight ends coach Tim Hinton told me Heuerman is the better blocker, while Vannett is the better pass catcher-but the difference between the two isn?t great. These guys are good.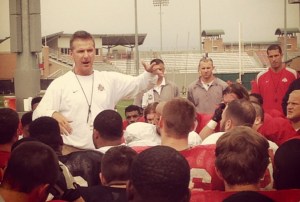 The offensive line looks impressive-at least the starters. The left side is without peer, with tackle Jack Mewhort and guard Andrew Norwell. Marcus Hall is solid at right guard. Sophomore Taylor Decker passes the eyeball test. He has a powerful punch but still needs some development. It will be key for center Corey Linsley to get over a foot ailment. Depth? It?s an issue. I talked to Mewhort after practice, and he said the reserves are coming along.
There was a lot to like about Ohio State defense today. The line, in particular, looked good. And if there is a better one in the Big Ten, I wanna see it. Adolphus Washington will be the new lynchpin up front. He is a big body who can move. Who is the best pass rusher? It?s Noah Spence. And, it?s not even close. Michael Bennett and Joel Hale are blue-collar guys. I am intrigued by 341-pound Chris Carter. The issue: He doesn?t always play with intensity. If he did, the kid would be special. True freshman Joey Bosa was running with the ?ones? on occasion today. Keep an eye on true freshman Michael Hill, who moves well.
[ PHOTO: It's official: Buckeye leaves added to back of Ohio State jersey collar ]
The defense figures to work almost exclusively out of a nickel package. Why? Because the personnel is best suited for the scheme and OSU will face many spread teams in 2013. The linebackers could be a concern. Front-liners Ryan Shazier and Joshua Perry are formidable. Shazier impressed today with his running. He may be the top linebacker in the Big Ten. But depth is shaky. True freshman Mike Mitchell has looked good. And true freshmen Chris Worley and Darron Lee could move from safety to linebacker to help.
[ INSTAGRAM: See all our photos from Ohio State practice ]
The secondary has a lot of moving parts-and plenty of talent. C.J. Barnett and Christian Bryant are a terrific safety duo. Redshirt freshman Tyvis Powell will be the nickel back, with Doran Grant and Bradley Roby at the corner spots. Grant will be an upgrade over departed Travis Howard. Sophomores Devan Bogard and Najee Murray also look good and figure in the mix at cornerback. And true freshman Vonn Bell may be the third safety, with fellow true freshman Eli Apple showing progress at corner. Lots of options in the back end.
Watch Dienhart's interview with Jack Mewhort:
View our tour schedule and relive all the stops:
| | | |
| --- | --- | --- |
| SCHOOLS | PRACTICE | SHOW ON BTN (8 p.m. ET) |
| Indiana | RECAP | TWEETS | PICS | Monday, Aug. 12 |
| Ohio State | RECAP | TWEETS | PICS | Tuesday, Aug. 13 |
| Penn State | Thursday, Aug. 8 | Wednesday, Aug. 14 |
| Michigan | Saturday, Aug. 10 | Friday, Aug. 16 |
| Michigan State | Sunday, Aug. 11 | Saturday, Aug. 17 |
| Purdue | Monday, Aug. 12 | Monday, Aug. 19 |
| Northwestern | Tuesday, Aug. 13 | Tuesday, Aug. 20 |
| Illinois | Wednesday, Aug. 14 | Wednesday, Aug. 21 |
| Wisconsin | Thursday, Aug. 15 | Thursday, Aug. 22 |
| Minnesota | Friday, Aug. 16 | Friday, Aug. 23 |
| Nebraska | Monday, Aug. 19 | Saturday, Aug. 24 |
| Iowa | Tuesday, Aug. 20 | Sunday, Aug. 25 |
**
| | |
| --- | --- |
| About Tom Dienhart | BTN.com senior writer Tom Dienhart is a veteran sports journalist who covers Big Ten football and men's basketball for BTN.com and BTN TV. Find him on Twitter and Facebook, read all of his work at btn.com/tomdienhart, and subscribe to his posts via RSS. Also, send questions to his weekly mailbag using the form below and read all of his previous answers in his reader mailbag section. |
And if you want to leave a comment on this post, use the box below. All comments need to be approved by a moderator.