Brent Yarina, BTN.com Senior Editor,

December 10, 2012

A month-plus into the men's basketball season, it's time to debut the Big Ten Power Rankings. With six teams landing in the top 19 of the latest major polls, it's not an easy task to rank the top half of the conference. Indiana and Michigan are the top two teams so far, but what about after that? See my complete rankings in this post.

1. Indiana, 9-0 – The nation's deepest team is about to welcome highly touted freshmen Hanner Mosquera-Perea and Peter Jurkin – both opened season on suspension – to a rotation that already goes 10 deep.

[RELATED: Watch Victor Oladipo's dunk fest vs. Central Connecticut State]

2. Michigan, 9-0 – Trey Burke and Tim Hardaway Jr. don't need much help, but the loaded freshman class is providing a lot of it. One example: Nik Stauskas has hit 15 of his last 24 treys (63 percent) and averages 13.7 points per game.

3. Ohio State, 6-1 – Any worries about who would help out Aaron Craft, Lenzelle Smith Jr. and Deshaun Thomas should be quieted by this fact: Craft doesn't lead the Buckeyes in a single statistical category – not even steals or assists.

[REALTED: Watch Sam Thompson's dunk-a-thon vs. Long Beach State]

4. Minnesota, 10-1 – Minnesota's lone loss came against No. 2 Duke abroad. We all know about Rodney Williams and Trevor Mbakwe, but Andre Hollins, Austin Hollins and Joe Coleman comprise one of the Big Ten's top backcourts.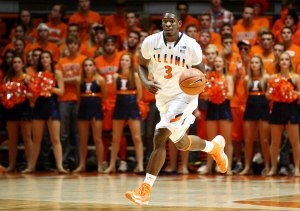 5. Illinois, 10-0 – Owners of the Big Ten's best win (at Gonzaga) and a perfect record, Illinois is the conference's biggest surprise. Why is it only No. 5? This team started fast last year, as well, and it still relies on the jump shot too much.
6. Michigan State, 8-2 – Tom Izzo's team will be fine when all is said and done. But right now, turnovers and early injuries (Travis Trice and Gary Harris) have kept the Spartans from finding much of any consistency.
7. Iowa, 8-2 – Here's a good sign: The Hawkeyes just snapped a three-game losing streak to instate rival Iowa State, which features talent, including former Big Ten guards Korie Lucious (Michigan State) and Chris Babb (Penn State).
8. Wisconsin, 6-4 – Ryan Evans is a key contributor for the Badgers, but if his troubles from the field (40 percent) and charity stripe (31 percent) persist, the Badgers must give heralded freshman Sam Dekker a bigger role. Either way, Evans needs to rid his system of 3-pointers (1-15).
9. Northwestern, 7-3 – Drew Crawford is finding life without former star John Shurna difficult. The guy many experts thought could lead the Big Ten in scoring is averaging 13.5 points per game and shooting just 40 percent (48.4 last year).
10. Purdue, 4-5 – Big Ten teams have no excuse losing to Eastern Michigan – even if the game is in Ypsilanti. The 44 points only make the defeat more concerning. Fact of the matter is, D.J. Byrd needs to right his stroke or things could get uglier.
11. Nebraska, 6-2 – Is there a more underrated Big Ten player than Brandon Ubel? The senior is getting unexpected help from Ray Gallegos and Andre Almeida, however it will be interesting to see if the latter two can keep it up against Big Ten competition.
12. Penn State, 5-4 – The way Jermaine Marshall and D.J. Newbill are playing, it makes Tim Frazier's season-ending injury all the more frustrating. Both guys will need to play out of their minds to give Penn State a shot at a couple Big Ten wins.
| | |
| --- | --- |
| About Brent Yarina | BTN.com web editor Brent Yarina covers football and men's basketball for BTN.com. He writes the popular uniform feature "Clothes Call," which also focuses on the latest cosmetic changes across Big Ten arenas and stadiums. Read all of his work here. You can subscribe to Yarina's RSS feed and follow him on Twitter @BTNBrentYarina. |