Brent Yarina, BTN.com Senior Editor,

August 1, 2012

Indiana's Cody Zeller and Michigan's Trey Burke shared last season's Big Ten Freshman of the Year. Could they share a court in the 2016 Olympics? That's what CBSSports.com's Jeff Goodman predicts. With rumors that Olympic basketball will go with players 23-and-under beginning in 2016, Goodman compiled his Team USA roster, and the starting 5 included the current Indiana and Michigan stars.

[CBSSports.com: 2016 Olympic Team: Major changes likely with coach, personnel]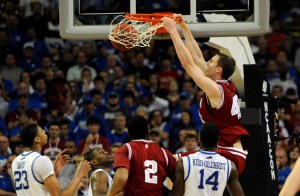 US PRESSWIRE
Burke and Zeller are joined in the starting lineup by high school star Jabari Parker, former Kentucky standout and 2012 No. 1 pick Anthony Davis and current UCLA freshman Shabazz Muhammad. See the entire roster.
Not a bad roster, knowing what we know now. But all of this is highly speculative and way too early to take very seriously. A lot can change before next basketball season, let alone before 2016. Still, it's cool to see two of the Big Ten's top players getting respect like this.
Here's a question, Big Ten fans: Between Burke and Zeller, who is more likely to make this a reality? Assuming, of course, they implement the rule that only players 23-and-under are eligible.
I'll go with Zeller. Size is something you can't teach, especially when it comes with the athleticism and speed Zeller possesses.
Brent Yarina is a web editor and blogger for BTN.com. Find all of his work here and follow him on twitter at @BTNBrentYarina.