Brent Yarina, BTN.com Senior Editor,

July 26, 2012

The first session of the 2012 Big Ten Football Media Days is in the books. Catch up on all the happenings from Thursday's festivities at the Hyatt McCormick Place with my media day notebook in this post. Also, check out my interview with former Michigan walk-on and current standout Jordan Kovacs. And don't forget that we're back at it again Friday morning. Have a question you want me to ask you favorite Big Ten player or coach? Tweet it to me (@BTNBrentYarina).

BLEEDING BLUE AND WHITE: Penn State senior Michael Mauti loves Penn State. He, along with fellow senior Michael Zordich, proved that very fact Wednesday by letting the world know he wasn't leaving the school to pursue an opportunity elsewhere in the wake of the NCAA sanctions. Mauti was at Big Ten Media Days on Thursday, and he has a message for any underclassmen who might be thinking about leaving Penn State.

"We graduate eight out of 10 guys," Mauti said, referencing a study he recently saw. "We graduate 80 percent of our guys, that's No. 1 in the nation."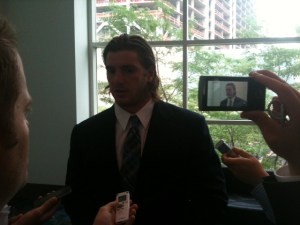 Need more? Mauti gave it.
"This staff knows how to get you prepared for the next level (NFL)," he said.
Mauti understands if younger players opt to leave, of course. But he hopes the outpouring of support he and other teammates have received from students, alumni and faculty helps sway players' minds. Mauti said he's heard from Penn State supporters who graduated from all decades. He's even heard from professors who said they haven't been to a game in 10 years or more, but that they go to all of them this year.
"I know we're doing the right thing here."
GET READY FOR FOOTBALL: BTN always puts coaches and players through some fun interview sessions during the opening session of Big Ten Media Days. I'm assuming everyone remembers this gem? This year was no exception. The biggest difference this time around: ?The Journey: Big Ten Football 2012? is around. And on Thursday, the show's producers used their time with the Big Ten stars to shoot the opening to the new show, which debuts October 3. I'm not going to spoil what the open revolves around, so make sure to check out the premiere episode.
For all your Journey needs, you can follow our crew every step of the way on Twitter and Facebook.
WHO CHALLENGES BUCKY?: Many experts think the Leaders Division is a one-team race. It's almost to the point where people aren't giving any team but Wisconsin the slightest chance. A lot of that has to do with Ohio State and Penn State not being eligible for the Big Ten Football Championship Game, due to NCAA sanctions. But don't tell Bret Bielema the Badgers have a cakewalk to Indy.
"The wins and losses against them (Ohio State and Penn State) still count," Bielema said. "And the other three teams with us are set to make big gains."
Those three teams are Illinois, Indiana and Purdue, which combined to go 6-18 in Big Ten play last season. Yes, all three of the teams figure to improve upon last year, but will any of them become a true threat to the Badgers? Maybe Illinois or Purdue, if any.
EA TO FOX: Perhaps you heard former ESPN sideline reporter Erin Andrews was hired by Fox. The uberly popular Andrews will host a new 30-minute primetime college football studio show, which premieres Sept. 1, and she'll also dabble in NFL and MLB coverage. You can also expect to see Andrews play a prominent role in the network's airing of the Big Ten Football Championship Game in December. Andrews was in attendance Thursday at Big Ten media days, and, to no surprise, she was a popular figure, .
Think Michigan State fans hope to see a similar scene to the one in the picture to the right this December at Lucas Oil Stadium? Thought so.
POSITIVE THINKING IN CHAMPAIGN: The bowl win aside, things did not go the way Illinois had hoped in 2011. There was the surprising 6-0 start, followed by the frustrating six-game funk – a skid that ultimately cost Ron Zook his job. Illinois expects a better fate in 2012 under the direction of first-year coach Tim Beckman and junior quarterback Nathan Scheelhaase. Scheelhaase is putting that responsibility on his shoulders, saying of himself: "I think it's time to step up and become one of the elite quarterbacks in the nation."
If that happens, with the way Illinois figures to be on defense, the Illini will be a pleasant surprise and could challenge Wisconsin for the Leaders Division crown. Scheelhaase showcased his abilities late in the 2010 season and into the early part of the 2011 season, so if he can put it all together for an entire season, he could be one of the Big Ten's elite quarterbacks.
DRESSED IN PURPLE: Wisconsin star running back Montee Ball is turning some heads with his suit of choice Thursday. The 2011 Heisman Trophy finalist is donning a light gray threads that is paired with more than its share of light purple. From the shirt to the vest to the bow tie to handkerchief, Ball is rocking the purple. The color, of course, happens to be that of Northwestern and TCU, two of the five teams Ball has lost to in his career.
Ball's response when told about the color? "Every color is some team's color!" he joked. Indeed.
BALL'S FALL: In conjuncture with Big Ten media days Thursday morning, Wisconsin rolled out its "This Fall Belongs to Ball" campaign, which promotes the Wisconsin standout running back and 2011 Heisman Trophy finalist for this year's coveted hardware. Here's the official website, the Twitter handle, the Facebook page and YouTube video.
Earlier this month, I asked if Ball was underrated? Here's that story. Whether you agree or not, there's no doubt Ball is the Big Ten's top preseason Heisman candidate in a long time. Heck, he was in New York for the presentation last winter and he's the lone finalist who returns.
REPRESENTED, AFTER ALL: Penn State, which announced Wednesday it would not bring any players to Chicago for media days, will be represented, according to ESPN's Joe Schad.
NEW DUDS: Under Armour has released Northwestern's new uniforms, and they're pretty sweet. I'm not sure I've ever seen anything like them, and that's a good thing. Read about the uniforms and see all the pictures.
WELCOME ADDITION: The Hyatt Regency McCormick Place added some new Big Ten-themed decor to its vast quarters this year. It's not something the hotel usually does, but on Thursday morning, one of the walkways featured every school's name painted on its own pillar of the wall, with the Leaders Division teams on one side and the Legends Division teams on the other.
It's a nice touch, and it kind of reminds me of what we have in the BTN studios. You can see part of the Leaders Division wall in the picture to the right.
PRESEASON WATCH LIST: The Big Ten Conference released its 2012 preseason players to watch Thursday morning. The list includes five players from each division, and heere are the talented student-athletes:
LEGENDS
Taylor Lewan, OT, Michigan
Denard Robinson, QB, Michigan
Johnny Adams, CB, Michigan State
William Gholston, DE, Michigan State
Rex Burkhead, RB, Nebraska
LEADERS
John Simon, DL, Ohio State
Braxton Miller, QB, Ohio State
Kawann Short, DT, Purdue
Montee Ball, RB, Wisconsin
Chris Borland, LB, Wisconsin
No surprise Michigan, Michigan State, Ohio State and Wisconsin all have two representatives apiece. The four schools are likely to be among the Big Ten's elite in 2012, the first two competing for what should be a hotly contested Legends Division crown.
Brent Yarina is a web editor and blogger for BTN.com. Find all of his work here and follow him on twitter at @BTNBrentYarina.