Brent Yarina, BTN.com Senior Editor,

March 9, 2012

What's going on around the Big Ten tournament? You know, aside from the exciting games? BTN.com web editor Brent Yarina is in Indianapolis for the 15th annual Big Ten Men's Basketball Tournament, and he filed a notebook. From food to spottings to uniforms, you'll find it in this post.

IT'S INDIANA: Sometime during Session II Thursday, media was given a sheet of paper that didn't include box scores or projected starting lineups. It was the only one of its kind on a busy first day. What was it? A letter from the Big Ten Conference that let us know tickets were no longer available for Friday's afternoon session and Saturday's semifinal session. The significance: Indiana fans were buying tickets — a lot of tickets. In fact, Thursday's afternoon session, featuring Iowa-Illinois and Penn State-Indiana, drew 17,936 fans, the largest crowd the event has hosted in the previous six seasons. Indiana was responsible for a huge majority of that crowd, and it's the main reason Friday's afternoon quarterfinal is sold out. The Hoosiers, fresh off their first Big Ten tourney win since 2006 — yes, 2006 — play Wisconsin in the 4-5 game at 2:25 p.m. ET. If Thursday is any indication, it's going to be packed and loud.

FRIDAY TO REMEMBER: With Indiana's win over Penn State on Thursday, Friday's quarterfinal action will include five top 15 teams. That's at least one top 15 team in all four games, with two doing battle when No. 15 Indiana- No. 12 Wisconsin meet. See the polls and view our scoreboard. It should be something special. If you like college basketball and can be around the TV, you don't want to miss any of Friday's games. Can't be around a TV? Track the games with BTN.com or watch on BTN2Go and ESPN3.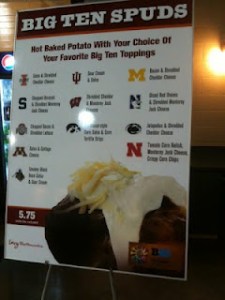 NEW SPUD HITS THE MENU: The concourses of Bankers Life Fieldhouse feature a wide variety of concessions. You name it, they pretty much have it. Even delicious baked potatoes — get this, generously garnished with Big Ten "toppings." And there's a new item on the menu this year: Nebraska. The school's spud comes with tomato corn relish, monterey jack cheese and crispy corn chips. The relish provides the red for Nebraska, the cheese the white, and the corn chips, well, you can't call something "Nebraska" without incorporating corn into it, right? The 12th spud sounds delicious, perhaps the best of the bunch. View the menu to the right.
MBAKWE BACK IN GOLD: Prior to Thursday's opening game against Northwestern, Minnesota's Trevor Mbakwe made a grand total of one road trip since he tore his right ACL on Nov. 27. There was no way Tubby Smith and company were leaving their injured star back in Minneapolis for the Big Ten tournament, though. Not only was Mbakwe at Bankers Life Fieldhouse, he dressed for the first time since that terrible injury. Mbakwe participated during warmups, providing words of encouragement, passing balls to shooters and even grabbing rebounds. For the record, he did it all very gingerly and wasn't about to risk messing up the knee. He'll be back at it again Friday, too, as Minnesota pushed past Northwestern in overtime for Day 1's lone upset.
NEBRASKA SURPRISE: Doc Sadler and the Huskers sure did a nice job of keeping Nebraska's attire for its first Big Ten tourney game a secret. Seconds before tip Thursday night, the Huskers surprised everyone when they took off their warmups and revealed new uniforms. The uniforms were new in that none of us had seen them before, but they were throwbacks in every sense of the word. There were no names on the back, the neck and under arms were a lot looser, if you will, than today's look, the numbers almost looked like they were ironed on before the game, the red was a duller red, and the "NEBRASKA" on the front was arched very close around the number. What did the public think? As one would expect, the answers reached both ends of the spectrum, from "ugliest uniforms ever" to "love them!"
LOOK WHO IT IS: The Big Ten tournament is a fun people-watching event. You can always find someone of interest, whether the games are in Indianapolis or Chicago. On Thursday, it was no different. Among the spotted: Wisconsin AD and former football coach Barry Alvarez, Northwestern women's basketball coach Joe McKeown, NBA ref and father of Northwestern's Drew Crawford, Danny Crawford, and Robbie Hummel's parents, whose son, believe it or not, was playing his first Big Ten tourney game since 2009. And the list should only continue to grow Friday.
PURPLE PRIDE: Northwestern isn't exactly known for its huge student section. The school boasts the smallest enrollment of all the Big Ten institutions, after all. You wouldn't have known it Thursday, as the Wildcats had the biggest and loudest true "student section." And they had the school to thank for the opportunity. Northwestern chartered seven buses to Indianapolis for the day — and also provided free lunch for all of the students — in an attempt to give the team homecourt advantage for its game against Minnesota, one many experts viewed as a must-win if Northwestern hoped to punch its first NCAA ticket. The Wildcats, of course, lost in overtime, putting a big dent in their tourney hopes. But it wasn't from a lack of support. I'm here to tell you, I was in the student section when Dave Sobolewski's last-second heave in regulation caromed off the rim, and you would have thought you were at a Pacers' home game. It was that loud. Well done, Northwestern.
MR. BARBASOL MAN: BTN analyst Jim Jackson needs no introduction. The former Ohio State star and NBA veteran is one of two guys to be a two-time Big Ten Player of the Year. Also, his face is all over BTN throughout basketball season. So what does Nebraska star Bo Spencer think of when he sees Jackson? His advertising career. That's right, when Spencer spotted Jackson in the tunnel prior to tip Thursday night, he let out a "Mr. Barbasol man!" It was a funny moment as the two exchanged quick pleasantries.
Brent Yarina is a web editor and blogger for BTN.com. Find all of his work here and follow him on twitter at @BTNBrentYarina.