Betsy Piland,

February 8, 2019

William White is a dedicated husband, father and Buckeye. He?s been an engineer, business owner and NFL player with a Super Bowl appearance under his belt.

Today, though, he has a new role, one that is not altogether welcome, but that he carries out with a sense of duty and pride. Today, he is a warrior fighting ALS.

Amyotrophic lateral sclerosis, or as it is commonly called, Lou Gehrig?s disease, is a progressive disease that affects nerve cells in the brain and spinal cord, eventually destroying the motor neurons that control muscles. The disease is considered fatal - something that White and the neuroscience team at Ohio State are actively working to change.

In 2016, White was casually chatting with his doctor during a checkup, mostly about football, when his doctor noticed some twitching in White?s arms. White assumed it was just muscle cramping, but still underwent a series of tests. His doctor called him in to discuss the results. ?He was very upset,? says White. ?Had tears in his eye and told me I had this Lou Gehrig's disease, ALS.?

White seemed nonplussed at his doctor?s suggestion that he would likely live just four to five more years. ?Everybody says I was very uplifting, but to me, as I told him ? ?Are you 100 percent sure you're going to be here next year?? We?re all going to die, so that's not something you should be focusing on.?

White?s faith is a driving force in his life, guiding both his actions and attitude. ?I'm sure my Father up in heaven is not looking down here saying, ?Oh, William, I didn't see that coming.?

As the Director of Community and Corporate Engagement for the College of Engineering Alumni Association, White quickly translated his diagnosis into action, creating the William White Family Fund for ALS.

?As I've always taught my kids, for things you can't control, why worry about it,? notes White. ?Now that something like that is put on me, I think, ?Okay, there's no cure for it. I can't do anything on that end, so why should I be worried about what I have. But I can help.?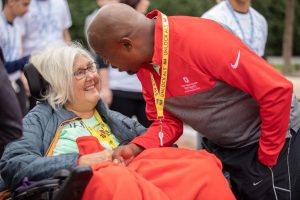 White has been collaborating with Dr. Stephen Kolb and Dr. Andrew Quick who lead the university?s ALS/Motor Neuron Disease Multidisciplinary Clinic and Translational Research Program-the benefactor of White?s fundraising. Kolb says that 100 percent of the money raised goes to the clinic?s ALS research mission. To date, the William White Family Fund for ALS has raised more than $330,000.
A Buckeye through and through, White speaks fondly of the university?s family dynamic. ?Ohio State knowing [about my ALS] and still wanting me to come and work-that really shows Buckeye Nation as a family.?
White said that former Ohio State football head coach Earle Bruce echoed that. ?He said families stick together. When the family is attacked, we come together and we try to solve that problem.?
And problem-solving they are. White?s fund is allowing Kolb and his team to learn more about ALS, and possibly how to someday slow or halt the disease?s progression - developments that could give the next generation of ALS patients a very different prognosis than those who suffer from the disease today.
Kolb says that the university?s ALS clinic is a unique one for a few reasons. First, it is a multidisciplinary one, meaning patients see more than a physician; they have access to a variety of providers.
?Sort of one-stop shopping,? explains Kolb. ?We have respiratory therapy, which is an important component of ALS management, physical therapy, occupational therapy, and speech therapy as well.?
The clinic?s dual purpose of serving as both a research lab and clinical practice means there are researchers who dedicate their lives trying to understand what causes ALS and how to stop it. ?I think our uniqueness is really the fact that we've got a dream team of clinicians and researchers working together for all of our patients.?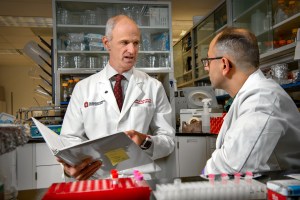 When it comes to ALS, Kolb says that there are several key findings that make their recent research especially exciting. The role genetics play can?t be stressed enough. Kolb notes that about 10 percent of people with ALS have a family history of the disease. ?I would go out on a limb and say that as we move forward, in the future, there will probably be a majority of patients who will have a genetic predisposition to getting ALS that we?ll be able to recognize.?
In addition, researchers now have the ability to study live cells, something they were previously unable to do. ?The real technology piece that has been big is the ability to take blood cells or skin cells, take them back to the lab where we can now turn them into relevant cell types like motor neurons-the neurons that died in ALS-giving us the ability to ?biopsy? cells that actually come from a living person.? Kolb notes that this could lead to individualized therapies for patients, something that is becoming common in the field of cancer treatment.
This work is only the tip of the iceberg, says Kolb. ?It's a very exciting time, and is this attention that William is giving us couldn't come at a better time.?
Dr. Adam Quick, a neurologist in the ALS clinic echoes Kolb?s sentiments about White. ?[From our initial conversation,] William made it a really big goal of his to try to make a difference in this illness. He's a very intelligent guy. He certainly understands the impact and the value that doing research provides, and he understands that you don't advance in the ability to treat patients who have really challenging neurological and other diseases without research-and a lot of what drives that is being able to have the money to do it.?
Kolb says that he?s continually inspired by White?s optimism. ?It's a process people go through with respect to the acceptance of their diagnosis. … William really was unique because he was instantly there, ?Let's make something happen.? That has made a big impression on us.?
These days, White is working tirelessly to raise money and awareness for ALS, attending events and supporting fundraising efforts, but he?s also enjoying the everyday activities that come with being a dad, like taking his daughter on college tours. ?I just enjoy every day. Every day we have is a blessing. That's what matters.?
To donate to the William White Family Fund for ALS, text KickALS to 41444, or visit give.osu.edu/kickals.