John Tolley,

November 16, 2018

When the riders of the Illini 4000 roll up to the cloud-dappled Golden Gate Bridge, it surely is a sight to behold. But it is not the magnificence of that span that makes these University of Illinois students marvel; it?s what it represents. The bridge is for them the end of a roughly 4,000-mile journey that began months before in New York?s Central Park.

?I remember looking at the Golden Gate Bridge and almost being in a state of disbelief,? says Steve Sabatini, Illini 4000?s president. ?It was hard for me to capture that I?d just rode my bike from New York City to San Francisco.?

The cross-country trek Sabatini refers to took place in 2018, but it was proceeded by one in 2017. And one in 2016. In fact, Illini 4000 riders have been traversing the nation since 2007, all in the name of raising money to help combat an insidious illness.

?Illini 4000 is a student-run, not-for-profit organization at the University of Illinois, and we raise money and awareness for cancer support services and research,? Sabatini explains. The group?s name comes from both the approximate mileage they ride from coast-to-coast and also references the amount of money each student must raise in order to ride.

It takes the group of 22-27 riders roughly 75 days to complete the journey over two major mountain ranges, across the expansive plains, through deserts and thick forests. Along the way, the group interviews and photographs cancer patients, their family members and caregivers for the Portraits Project.

?We?re looking to document the American cancer experience,? says Sabatini. ?We?re looking for people to share their story with everyone else who has been affected by cancer. That means, what was your support system like, what was it like the day you got diagnosed, how did you find strength in such a daunting situation. Then we put those portraits together on our website to help connect people who may have had similar experiences.?

To date the group has raised $1.2 million for their primary beneficiary, the Damon Runyan Cancer Research Foundation, with over $110,000 dollars raised in the last year alone. Illini 4000 funds also help support groups in the Champaign-Urbana are, such as the University of Illinois chapter of Camp Kesem, a year-round program for children whose parents have been diagnosed with cancer.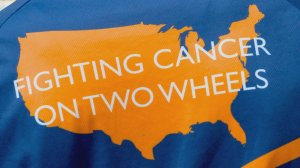 Senior Alison DeBruyn, who signed up with Illini 4000 as a freshman, is the organization?s director of fundraising. For her, Illini 4000 has come to frame her college experience and given her teammates and friends she will carry with her for her entire life. But the real impact, she says, comes from the people the group interviews across the country.
?It reminds you why you?re doing the ride,? she says. ?Doing the ride is truly for them, and what we do in a day, even though it may be exhausting, is nowhere near the same magnitude that someone facing cancer is going through day-to-day.?