John Tolley,

October 3, 2018

How much do you know about Mary Louisa Page, the first woman in the US to graduate with an accredited degree in architecture? Or, materials scientist Dr. Nancy Sottos, whose ongoing work has led to breakthroughs in self-healing materials and advanced polymers?

The answer is likely very little, and for the layperson that is understandable. In the world of STEM, however, these are just two of the pioneers whose scholarship and work has lit the path for scores of women in traditionally male-dominated fields.

They also share the distinction of being Illini - alumnae and faculty, respectively - and their stories are just two included in the new book Women and Ideas in Engineering: Twelve Stories from Illinois (University of Illinois Press, 2018). Authors Laura D. Hahn and Angela S. Wolters profile engineers, architects, bioengineers, physicists and more who fought the barrier of exclusion to become leaders in their chosen disciplines.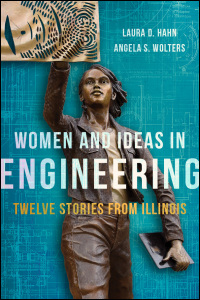 There?s Dr. Lorella Jones, a faculty member and physicist, who was an early adopter of computer-based education research. Years before it became expected that quizzes and other coursework would be offered via electronic devices, Dr. Jones was championing the cause of computer learning. Her work also extended beyond the confines of Illinois. Dr. Jones was instrumental in developing curricula that brought the fascinating world of physics into elementary room classrooms, igniting the imaginations of generations.
Medical physicist Dr. Rosalyn Yalow, winner of the 1977 Nobel Prize in Physiology or Medicine, earned her PhD at Illinois in 1945. While she faced criticism for both shunning women?s scientific organizations and eschewing the traditional role at the time of women in the sciences, that of a primary or high school teacher, Yalow nevertheless helped gain acceptance for women in the highest levels of research. She also helped steward the careers of many young female scientists, such as the ?Queen of Carbon Science,? Mildred Dresselhaus.
Hahn, director of the Academy for Excellence in Engineering Education at Illinois, and Wolters, director of the university?s Women in Engineering program, do not intend the book to be a mere listing of important female engineers who hail from the University of Illinois. Rather, Women and Ideas in Engineering is a signpost pointing us in the direction of a more enlightened and informed future, one where equal representation in STEM fields is more than just a given, it is a boon to all.