John Tolley,

September 26, 2018

If you live in the Upper Midwest then you well know that it is apple season. On weekends, U-Pick orchards teem with young and old alike plucking crispy, juicy Jonathans, Golden Delicious, Honey Crisps, Fujis and more from rows of trees. They?re bound for pies, brown betties, strudels and simple snacking as the days grow shorter.

But for all of the autumnal charm that apples lend the season, make no mistake: this is big business. The US Apple Association estimates that the direct economic windfall of apple farming is around $4 billion per annum, with another $15 billion in down-market economic activity.

With big money riding on the success of their crop, the roughly 7,500 apple producers are keenly aware of the myriad factors that go into a healthy harvest. Variables such as wind, rain, sunlight exposure and humidity levels all come to bear on farmers? decision-making, such as the all-important choice on when to thin the fruit through pruning.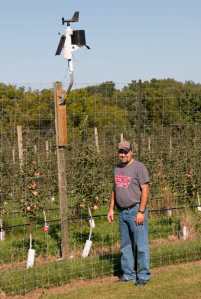 Enter the University of Wisconsin-Madison, where researchers are working to ameliorate the guess-work that goes into the growing of apples and other fruits. Posted high above orchards and vineyards, robotic weather stations installed by the university are providing critical data to farmers.
The weather stations - of which there are 31 across Wisconsin?s main apple and grape-growing region - are linked together as part of the Network for Environment and Weather Applications (NEWA). Implemented in the state by UW-Madison assistant professor of horticulture and extension fruit specialist Amaya Atucha, NEWA data is publicly-available and provides a larger picture of weather pattern impact.
But it is the precision data collected at a specific farm that is of the utmost utility to farmers, as the slightest of gradients can drastically alter outcomes. The weather station data is funneled into agricultural apps and tools and, via software, can even formulate recommendations for farmers. Beyond crop thinning, the data collected helps farmers with accurate irrigation and water management as well as the targeting of pest control measures.
NEWA weather stations are just one of the numerous ways the the University of Wisconsin-Madison helps fruit growers are farmers across the state maximize their crops in an efficient, affordable and sustainable fashion. Professors and extension specialists are available year round to assist with questions ranging from soil quality to disease prevention. To learn more, check out the full UW-Madison News article here.