Matthew Wood,

September 22, 2018

Patients awaiting surgery in the Penn State Children?s Hospital have been getting special visits from princesses, superheroes and other famous characters from their favorite stories.

But this is no fairy tale. It?s part of an effort from a group called BraveCubs, which sends medical school volunteers dressed as the characters to help cheer up the kids.

The program was started last year by Amy Burns, a pediatric urologist and the Assistant Professor of Surgery in the Division of Urology at Penn State. She was looking for a way to get her students more active with potential patients.

?I?m very involved with teaching our medical students here and taking care of my patients, who obviously I love,? Burns says. ?I really wanted to start a group here that combined patient care with the teaching aspect of Penn State heath. I wanted to increase interest in pediatric fields. I think they can be intimidated by kids.?

The program was made possible through a grant from the Children?s Miracle Network and is sponsored by the Division of Urology.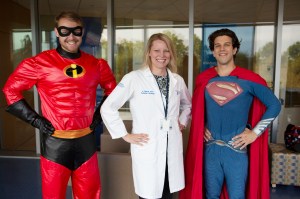 It started out with just a few students – and just a few costumes. But in just a year it has expanded to 75 student members, with a board of 11 student officers.
Even cooler for the kids, they have about 20 costumes to choose from now, ranging from Cinderella, Elsa from ?Frozen? and Moana to Batman, Superman and Black Panther. ?Captain America is coming in the mail,? Burns says.
?It?s been going really, really well,? she adds. ?We?ve gotten so much support on so many levels from the institution. I think when everyone thinks of Penn State, they think ?We Are.? And this has come together on so many levels.?
Liz Profeta, a fourth-year medical student who is preparing for her residency in pediatrics, has been dressing up as characters during her time with the program. She says Cinderella and Elsa are her favorites.
?One of the cool things about this is kind of just feeling not like a medical student, but to play these roles,? she says. "To be girly and interact in a way that I don?t usually act. It?s really a nice escape from medical school, but in a way that we can still help the patients.?
She said it?s an amazing feeling being able to help cheer up the kids who need it most.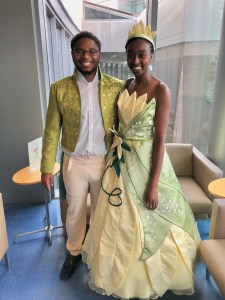 ?They go peep into the room and say, ?We have Elsa here to visit.? Their face usually lights up,? Profeta says. ?The patients are here for a reason. They look like a patient. Once they start interacting with you, their eyes light up and they?re like a kid again. It?s really nice to see that pain and anxiety taken away.?
While it started with patients awaiting surgery, that?s just the beginning of the children BraveCubs can help.
They will be at the finish line of a muscular dystrophy walk to cheer on the kids who participate. They will be at a flu vaccine clinic to distract the kids as they get their shots. They are doing a royal tea fundraiser. They are working with a student a cappella group for a Halloween event. And that?s just in the next month alone.
?We have very big plans,? Burns says. ?Personally, being a physician, it?s a pretty awesome job, but it?s also hard. There are things that are really tough that kids go through. I?m inspired by their bravery. That?s how we came up with the name. It?s totally worth it when we interact with kids in the hospital and interact with staff and nurses and people out in the community. We have big plans for a reason.?
From a student standpoint, Profeta says she it?s been a joy to see the progress the group has made.
?I think from the medical student side, we?ve come to a really good spot,? she says. ?We made all these plans for what we were going to do once we had enough costumes and students. We only had about four costumes at the start. Things have really taken off. People are realizing this is a really cool thing.?
As far as Profeta knows, this is the only program in the country that does this type of thing. She says it makes her proud to be able to help people while learning more about her future career.
?One of the things that makes BraveCubs so special is it?s one of a kind,? she says. ?All volunteers are medical students. It really connects us to what our jobs are going to be.?
And at the end of the day, it?s really all about the children.
?There is no more noble goal than making kids happy.?
Superman couldn?t have said it better himself.