BTN.com LiveBIG Staff,

August 5, 2018

The recent extraction of 12 Thai boys and their soccer coach from a water-filled cave has roundly been declared one of the most daring, dangerous and miraculous rescues in recent history. An Indiana University graduate can attest to that.

Anmar Mirza serves as the National Coordinator for the National Cave Rescue Commission, an organization that provides training and resources to help cave rescues like the one in Thailand. His responsibilities included fielding numerous media calls from around the country to give his expert opinion on the situation as well as coordinating resources with U.S. personnel. Taking up the cause was a no-brainer for him.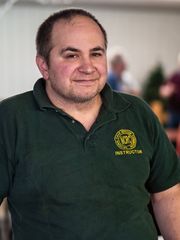 ?The position is a volunteer position. Caving has always been a passion of mine; I started caving at 13 and cave rescuing at 15 [through] taking classes at the NCRC. I moved up through the ranks to Regional Coordinator and then to National Coordinator,? Mirza explained. ?As the National Coordinator, I speak for our parent organization [the National Speleological Society] and about national cave rescue operations in the U.S. to the media.?
Fielding questions from the media became especially important during this trying time. ?As the National Coordinator, the primary job I did was answer questions from the media, which takes the load off of people onsite,? Mirza said. ?I also coordinated resources to the cave with the State Department and the U.S. military.?
The Thai Navy SEALs were working round-the-clock to ensure that the boys and their coach would emerge from the cave safely. International assistance was a must, as there were too few professional cave divers in Thailand to carry out the complex rescue mission. With water rushing in, little to no visibility, and nine days of not eating, there was only a narrow chance that the boys and their coach would make it out.
?You could write a whole paper on that,? Mirza answered when asked what the dangers were surrounding the boys. ?The biggest danger obviously was if where they were and where they were going was going to keep flooding. The people on site choose to take the risk and dive, and thankfully it paid off.?
With rescue operations running around the clock, all 12 boys and their coach made it out thanks to the bravery of the SEALs and volunteers from all over the world. With years of exploring the caves around Bloomington and educating Indiana students on risk management, Mirza was more than prepared to handle the pressure from the media and the rescue itself.
On top of his work for the NCRC, Mirza serves as an EMT instructor and Risk Management First Responder for Indiana. However, his connection to the university stems long before he ever stepped foot on campus.
?I am a Bloomington, Indiana native, and my mom has worked on campus since I was one year old,? he commented. ?I?ve been an EMT all my life and I?m semi-retired, so this [job] allowed me to come in and teach class while working in risk management.?
As an EMT instructor, he helps run Indiana?s Emergency Medical Technician program, teaching students vital life-saving skills like airway management, IV maintenance and patient assessment skills. Taught in the School of Public Health, the EMT program is an intensive and practical way for Indiana students to becoming certified EMTs. When he is not busy teaching class, Mirza stands by at Indiana?s recreation facilities to help out potentially injured athletes in his role as a Risk Management First Responder.
And for students seeking to follow in his steps? Mirza says Indiana is a great place to start.
?IU has an excellent geology program, and a lot of world famous geologists have come out of there,? he explained. ?It?s a wide open field, and for those who enjoy caving, you can do your schoolwork while enjoying your hobby at the same time.?
by Meaghan Lanctot