John Tolley,

July 24, 2018

If there was a Mount Rushmore of advertising icons, who would be on it? Col. Sanders? The Jolly Green Giant? Mr. Whipple? What about a man whose decidedly unhip air made him the first name in popcorn? With his trademark bow tie, horn-rimmed glasses and earnest Midwestern delivery, Orville Redenbacher was a fixture of our television screens for decades, less a spokesperson and more of a trusted family friend come to sell us on the joys of a handful of his light, fluffy and reliable popping corn.

Redenbacher?s amazing life, from his childhood in rural Indiana to his days as an agronomy student at Purdue University to his struggles and ultimate success as a popcorn magnate are detailed in the book Just Call me Orville: The Story of Orville Redenbacher (Purdue University Press, 2011) by Robert W. Topping (yes, that is his real name, and yes, it is amazing.)

Born to a farm family just south of Brazil, Indiana, young Orville literally grew up surrounded by corn. He first dipped his toes in the water of the food business selling baggies of buttered popcorn from the back of his parent?s car, an avocation that spoke to the young man?s industrious nature. Orville?s time at Purdue was spent deep in the study of plant sciences with particular interest paid to the hybridization of crops to produce an optimal product. But his Boilermaker days weren?t entirely devoted to kernels: Orville, though lean and lanky, blew the sousaphone for the Purdue All-American Marching Band.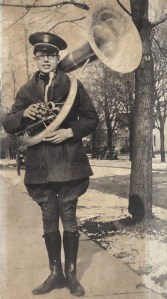 Topping?s exhaustive research and interviews with the people who knew Orville best paint a vivid picture of man who was anything but bland. While the story is unique to one man, moreover it tells of the ingenuity and spirit that drove immigrants to find their purpose and thrive in America?s heartland. Orville?s descent from a long-line of hard-scrabble farmers and rural operators who scraped their way up from nothing in the soil of Indiana is what led the young scientist to spend close to 20 years perfecting his popcorn varietal. As he was fond of saying in commercials and life, ?Do one thing and do it better than anybody else.?