BTN.com LiveBIG Staff,

June 23, 2018

Astronomy and symphonic music aren?t the likeliest of pairs at first glance; that is, unless you?re José Francisco Salgado.

Salgado, who received his Ph.D. in astronomy from the University of Michigan, combines his passions for astronomic photography and love of music to create science-symphony films to expose people from all over the world to the wonders of science.

?Astronomy is a very visual science,? he said. ?I visit schools and orchestras all over the world and teach [it] using music films as a basis to get people interested. The films are visually appealing and the music gets people?s attention.?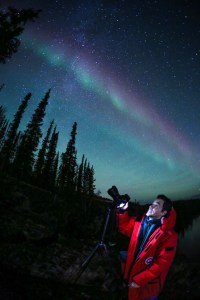 Salgado?s love of astronomy was kindled when, in the third grade, he read a book on the Apollo space program. Growing up in Puerto Rico, he was also afforded the opportunity to visit the Arecibo Observatory, the island?s famous (and enormous) radio telescope. However, it was during his youth that Salgado was given a gift that would alter the course of his life.
?My parents gave me my first DSLR camera when I was in the eighth grade,? Salgado noted, ?and the first thing I did was point it at the night sky.? It wasn?t until graduate school that he realized he could combine astronomy and photography into so much more.
He was drawn to Michigan to pursue his PhD because of the innovative extra-galactic research astronomers were conducting. While at Michigan, Salgado discovered the exciting ways astronomy can be taught through the department?s Education and Public Outreach Initiative, which provides educational programs tailored for schools and community centers. Through this program, he learned he could pursue a career in astronomy education and fulfill his passion for both science and art in a meaningful way.
After graduation, Salgado took a job at Chicago?s famed Adler Planetarium. While working at the planetarium, the Chicago Symphony Orchestra asked him to produce a visual backdrop to their performance of ?The Planets?, a seven-movement orchestral suite by renowned composer Gustav Holst. The project required fitting the film around the music, a process to which Salgado likens creating a ?soundtrack in reverse.? But, he was ready for just such a challenge.
?This project gave me the motivation to move from still photography to motion graphics,? Salgado said. He quickly taught himself video editing, and his first symphonic-science film ?The Planets? was born.
Salgado has continued to combine astronomy with music in his ?Science and Symphony? film series. He also founded the nonprofit KV 265 in 2010 to teach science through unconventional mediums, such as music, film, and photography. KV 265 has partnered with numerous symphony orchestras, composers, and musicians from around the world to create multimedia pieces that convey an understanding of astronomy for all people to enjoy.
?To me, the key word in scientific education is inspiration,? he stated. ?By presenting science in a non-intimidating format, people will be inspired to learn more about what they see on their own. When you show things you shot yourself, it removes degrees of separation so they will ask more about what they?re seeing.?
Today, Salgado juggles a multitude of tasks as the executive director of KV 265. He gives lectures, presents his symphonic-science films around the world and continues to produce new films. He is currently working on two different films titled Nocturnes and Tidal Forces.
?Nocturnes demonstrates the difference between artificial and natural light,? he explained, ?by contrasting night in the city and night in the darkest locations in the world, used with the piece of music with the same name by Chopin. Tidal Forces is about the power of lunar tides and how the gravitational force of the moon controls them. I?m taking time lapses of places all over the world like the Bay of Fundy, [Le Mont] Saint-Michel in France, and Cornwall in England.? For the latter piece, the music was actually commissioned to support the film instead of the other way around, something Salgado said would not have been possible without the success of his previous projects.
Despite his busy schedule, he still makes time to go back to his alma mater to give lectures and show his films. Notably, he made an appearance on the University of Michigan?s Saturday Morning Physics show last November to talk about the science behind the Northern Lights. In addition to academia, Salgado maintains a personal connection to the university through his daughter, a rising freshman at Michigan.
by Meaghan Lanctot