John Tolley,

June 22, 2018

Something huge happened at the International Zebrafish Conference at the University of Wisconsin-Madison this past week, and it had little to do with the tiny, striped fish prized by biologists as a model organism for study.

It was the debut of an astounding piece of microscopic equipment that has the potential to advance modern biology by leaps and bounds, saving both money and time while democratizing science for all.

The piece of equipment is a portable light sheet microscope dubbed Flamingo by the team of Wisconsin researchers who created the advanced imaging tool under the direction of Jan Huisken, a medical engineering investigator at the Morgridge Institute for Research.

Regular light sheet microscopes, of which Huisken co-created, are cumbersome, table top sized devices that don?t see much in the way of travelling. The Flamingo microscope, however, can be dismantled and fit into a carrying case about the size and weight of a large suitcase. This is ideal for researchers who need to use light sheet microscopy, which illuminates a specimen from the sides and allows for imaging from all angles over the course of hours and days, but cannot afford one or cannot risk transporting their delicate samples to the nearest microscopy resource center.
This video shows 24 hours of growth of a zebrafish captured by light sheet microscopy. Video by Jiaye "Henry" He, of the Morgridge Institute for Research, and Liz M. Haynes,postdoctoral fellow in integrative biology.
The prototype is set to undergo beta testing within the University of Wisconsin scientific community. If all goes well, Flamingo will be loaned to labs across the country. In addition to being relatively easy to set up, it can be monitored and calibrated remotely by the team in Wisconsin. Once a researcher is done with Flamingo, they can ship it to the next recipient or send it home for maintenance.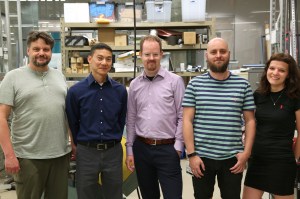 In a recent Wisconsin press release, Huisken lab team member Susi Power talked about the awesome power that access to technology has for the entire science community.
?It does something magical for a biologist to have a technology like this entirely to themselves, where they can set it up and say, ?that?s my Flamingo,?? Power says. ?I think there will be a huge reward to the science.?
Power also noted that the Flamingo project is part of a larger initiative of the Huisken lab called ?involv3d,? which seeks to bring together scientists of all stripes in the spirit of collaboration and mutual benefit. The ultimate goal is a form of supportive scholarship that Powers says has the potential to ?help scientists profit from other scientists.?