John Tolley,

June 10, 2018

When the Civil War erupted, the state of Iowa was only 15 years old. It was a land laced with railroads, though, and blanketed with fertile fields that would have been a boon to either side. So, why then did this young farming state on the edge of America?s frontier throw their lot in with the Union?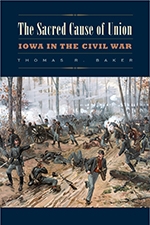 The history of Iowa during our bloody national conflict is explored in great detail in The Sacred Cause of Union: Iowa in The Civil War by Thomas R. Baker, associate dean of student at the University of Iowa. Ignored at the time by the Democratic National Party, Iowans, by and large, became staunch Republicans and helped elected Abraham Lincoln twice. Baker notes that while the state saw no official fighting aside from a few raids by pro-Confederate guerillas, they did contribute mightily to the war effort. Men and boys both wore Union blue uniforms as they charged into battle and organized groups of Iowa women lent their support, caring for the wounded on southern battlefields. Iowans also sent much-needed supplies to the warfront, including clothing, food and medicine.
Baker illuminates the personal as well, telling the story of the state during wartime through the eyes of six different individuals. One, Cyrus Carpenter had come to the new state from Pennsylvania. A land-surveyor by trade, he hoped to strike it rich. The events of the war shaped in such a way that he soon became a leader of Iowa?s Radical Republicans and governor of the state.
Once seen as a mere breadbasket, the response of Iowa to the Civil War helped to propel the state and its citizens onto the national stage. Major General Greenville Mellen Dodge, a leading Union intelligence officer, would go on to play a major role in the construction of the Transcontinental Railroad, steering the path through the heart of Iowa. He would later be elected a US Congressman.
The book was a labor of love for Baker but has received much recognition. Baker was honored with the 2016 Benjamin F. Shambaugh Award, an annual prize for the book judge most significant to the subject of Iowa History.