Matthew Wood,

May 18, 2018

Ages before Terps tread the land, the campus of the University of Maryland was the site of one of the most troublesome institutions in US history, a slave plantation. Conversely, it was also the scene of triumphs in Black History such as the appointment of Chancellor John B. Slaughter, the first African-American to lead a large, majority-white university in the US.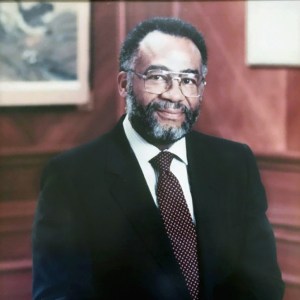 Now, a new multimedia tour, created by Kim J. Nickerson, Assistant Dean of the College of Behavioral and Social Sciences, highlights the roles African-Americans have played in the university?s storied history.
The tour, which can be experienced online and is in the works as a walking tour, came out of a presentation Nickerson gave four years ago as part of Black History Month.
?A group of students approached me to give a Black History Month presentation to their group,? he says. ?This was right after the murder of Trayvon Martin and some other high-profile killings of African-American men at the hands of police. These students were feeling distressed. There were a lot of incidents on campus that made students question whether faculty wanted them. I thought [about] what could I do to help them understand their value here.?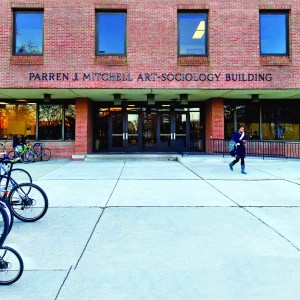 So, Nickerson put together the presentation, much of which came from his knowledge of the campus, infused with some digging into the full story of places on campus like Frederick Douglass Square and the Thurgood Marshall Room in Shoemaker Hall.
?I had known about the accomplishments of many African-Americans in the state of Maryland, and they?re reflected on sites on campus,? Nickerson says. ?On my own, I decided to pull together all these locations that were relevant to the African-American experience, not only as students but the impact they had on this country.?
Fast forward to 2017, when Nickerson was asked to make the keynote address for the university?s Black History Month events. He again highlighted the campus? notable locations.
?It was very well received,? he recalls. ?All of a sudden, I noticed random students who would say, ?That was great, why didn?t anyone tell us about all these sites on campus???
One of the people impressed by the presentation was Roger L. Worthington, who was named the university?s Chief Diversity Officer last year.
?I became aware of the work Dr. Nickerson had done in making a presentation on campus,? Worthington says. ?I approached him and talked about the possibility of how that history could be translated into a walking tour.?
(Check out Dr. Nickerson's Instagram Story highlighting the tour here.)
So, Nickerson went back to work, compiling the information from his presentation and adding relevant photos and other visual aspects on his own time.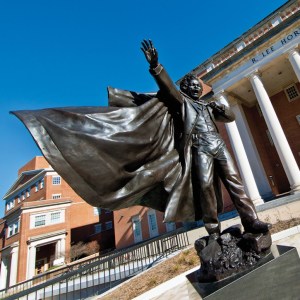 ?I didn?t have the bandwidth to make this a full project,? he says. ?Roger suggested I partner with the Office of Diversity and Inclusion. The idea of an online portal and companion walking tour was born.?
With the tour fully available online, Nickerson has given a handful of walking tours. The goal is to train guides and other students how to give the tours and make them much more accessible in the fall.
?We?d like to make this tour available for anybody who is interested and the kind of attraction that?s sustainable for a long period of time,? Worthington says. ?As time marches on, we?ll be able to update the tour and have a whole host of pride points that will really highlight and accentuate.?
Nickerson says he hopes the tour will give students and community members a chance to see the full breadth of what the campus has been through, warts and all.
?This tour and understanding the history of our campus is not all rosy. Some of it is very tough,? he says. ?The fact that this campus was carved out of a plantation and humans were enslaved to enrich the men who established the university is not a joyful story. Yet you have triumphs that need to be told.?
He would like it to bring the campus together and hopefully inspire similar work from other groups.
?I want the lesson to be, you can persevere on campus and the work you do can have an impact not only on campus but to the world,? he says. ?If it stimulates other groups to document their contributions to the university, then great! There might be a group that wants to develop the history of Latinos, Asians, women. They can all coexist at the same time.?