John Tolley,

March 23, 2018

In a little over a month, April 28th to be precise, the University of Maryland will swing open its doors to the public for Maryland Day 2018, an open-house like no other. Students, faculty, staff, alumni and the curious of all ages are invited to partake in a day of celebration that showcases all that this top-tier research university has to offer.

?[Maryland Day] is an invitation to the community to see what the university?s all about,? said Josh Turskey, Chairman of Terps Against Hunger, speaking with BTN LiveBIG in 2016. ?We?re opening our doors and our arms and saying, ?Come be a part of our community.??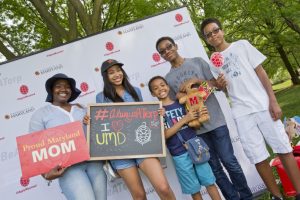 Now in its 20th year, Maryland Day organizers are expecting around 75,000 visitors to partake in over 400 events across the College Park campus. This year?s festivities are divided into six ?learning neighborhoods,? each an interactive experience highlighting a different facet of Maryland?s educational and research mission.
Terp Town Center: Located at the McKeldin Mall and the Stamp Student Union, the Terp Town Center has something for everyone, from live performances to meet-and-greets with the Men?s and Women?s basketball teams. Food options abound, and the kid?s carnival, with a boot camp obstacles course and inline jumpers, is not to be missed.
Ag Day Avenue: Toss aside your preconceived notions of what an agriculture school does. The University of Maryland?s 150-year history of agricultural innovation is on display, with faculty and students showcasing the cutting-edge science used to create the cleaner, greener, bountiful and more efficient farms of the future.
Art & Design Place: Calling all artists, performers, designers and writers. This is your opportunity to check out performances at Maryland?s Clarice Smith Performing Arts Center, peruse crafts in Tawes Plaza and take part in creative events in the Art, Sociology and Architecture buildings. And don?t forget to swing by the Philip Merrill College of Journalism and the Maryland College of Education for more activities.
Biz & Society Hill: From business to criminology to public policy, this area has a slew of exciting attractions that focus on the social sciences and more. Included in this area are events at the university?s stunning Memorial Chapel.
Sports & Rec Row: Let your inner athlete out in this area. You can climb ?mountains,? soar through the air and even meet a friendly robot. With an eye towards wellness, this area also features health-screenings.
Science & Tech Way: Lasers. Robots. A Wind Tunnel. Science comes to life in this area. From biology and botany to engineering and chemistry, those curious will find a host of activities that will illuminate the engaging side of scientific research.
From one side of campus to the other, Maryland?s dedication to ?Fearless Ideas? is on display at Maryland Day 2018. For more information about the event, check out their website here.