BTN Communications,

March 1, 2018

[btn-post-package-v2]

In partnership with NYC Parks, BTN yesterday opened the new-look Triborough Bridge Playground B after its first significant renovation in over 20 years, complete with a custom court design by Brooklyn-based artist Mark Paul Deren (MADSTEEZ).

The art, representing colors from all 14 Big Ten universities and incorporating Deren?s signature ?M,? was painted on freshly laid asphalt to accompany the two new basketball hoops installed. To open the court, BTN hosted a youth clinic put on by the trainer for numerous NBA All-Stars, Chris Brickley, and former New York Knicks forward, Big Ten Player of the Year and Indiana Hoosier, Jared Jeffries. Nearly 50 area children from After-School All-Stars and the Zone 126 afterschool program were invited out to work on their skills as the Big Ten Basketball Tournament prepared to begin in nearby Manhattan.

MADSTEEZ is known for his vivid, large-scale and multi-layered paintings which integrate familiar figures into abstract landscapes. He has previously been featured in the New York Times and has worked with the likes of Nike, Bleacher Report, Target, and Red Bull.

?The basketball tradition in New York City is second to none, and it?s one of the many reasons the Big Ten Men?s Basketball Tournament has made its way to Madison Square Garden,? said Jordan Maleh, Director of Digital Marketing and Communications at BTN. ?As a network our goal was to, even in a small way, make a meaningful contribution to that culture and we?ve been fortunate to have a partner like NYC Parks to make it a reality.?

A full digital recap of the event, as well as additional branded content from the project, will be presented by Hulu.

?The Big Ten Network has brought color and fun into this neighborhood basketball court,? said Queens Borough Parks Commissioner Dorothy Lewandowski. ?With new rims, weather-resistant asphalt and an eye-catching mural, these hoops are sure to be a hit.?

?I am absolutely honored to partner with The Big Ten Network and create something special for the Astoria community,? said Deren. I was welcomed with warmth and endearing smiles from all the locals as I painted over the past week, and was impressed by the way the entire neighborhood utilized their parks and public spaces.?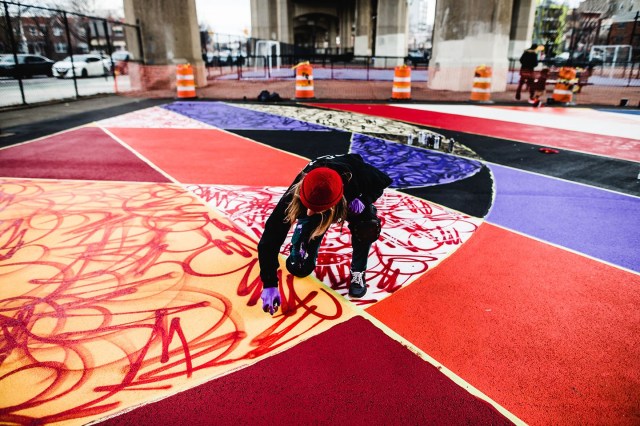 The 2018 Big Ten Men?s Basketball Tournament Presented by SoFi is currently underway at Madison Square Garden. The next eight games of the tournament can be seen live BTN, BTN2Go and Fox Sports GO.