BTN Communications,

February 15, 2018

BTN today announced its 2018 coverage of Big Ten men?s and women?s lacrosse, televising at least 28 games, including six postseason matchups, and streaming approximately 30 other games on BTN Plus. Additional regular season events may be added to the schedule at a later date.

Men?s television coverage begins on Saturday, Feb. 17, when Stony Brook visits No. 16 Penn State at 2 p.m. ET. Highlighting the remainder of the schedule are five appearances by reigning national champion and No. 2 ranked Maryland, including a matchup against No. 9 Notre Dame on Saturday, March 3, at 11 a.m. ET. BTN will also televise the semifinals and championship game of the Big Ten Men?s Lacrosse Tournament beginning on Thursday, May 3, from Ann Arbor.

Women?s lacrosse coverage on BTN starts Wednesday, March 14, as Drexel visits No. 12 Penn State. The top-ranked Maryland women?s team, also the defending national champion, will appear on BTN four times, including a matchup with No. 10 Northwestern in College Park on Thursday, April 26. Additionally, BTN will televise the women?s lacrosse semifinals and championship game, hosted by Michigan, beginning on Friday, May 4.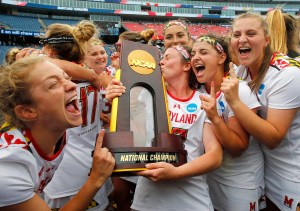 Leading BTN?s coverage is a group of analysts that includes Mark Dixon, who played lacrosse at Johns Hopkins and has covered NCAA Men's lacrosse for 20 seasons and Sheehan Stanwick Burch, a four-time All-American and the 2001 National Attacker of the Year. Joining them in the booth will be play-by-play announcers Joe Beninati, Dean Linke and Jason Knapp.
The latest Inside Lacrosse Division I men?s poll includes five Big Ten squads ranked in the top 20, with No. 2 Maryland, No. 6 Ohio State, No. 8 Johns Hopkins, No. 11 Rutgers and No. 16 Penn State. Four Big Ten women's lacrosse teams are ranked in the top 20 of the latest Inside Lacrosse Division I women?s poll, including No. 1 Maryland, No. 9 Northwestern and No. 12 Penn State.
BTN MEN?S LACROSSE TELEVISION SCHEDULE (All Times Eastern)
| | | | | |
| --- | --- | --- | --- | --- |
| Saturday, February 17, 2018 | Stony Brook | at | Penn State | 2:00 PM |
| Saturday, March 03, 2018 | Notre Dame | at | Maryland | 11:00 AM |
| Saturday, March 10, 2018 | Towson | at | Ohio State | 4:00 PM |
| Saturday, March 10, 2018 | Albany | at | Maryland | 12:00 PM |
| Saturday, March 31, 2018 | Maryland | at | Michigan | 12:00 PM |
| Sunday, April 01, 2018 | Johns Hopkins | at | Rutgers | 7:00 PM |
| Sunday, April 08, 2018 | Maryland | at | Penn State | 7:00 PM |
| Sunday, April 15, 2018 | Rutgers | at | Maryland | 7:00 PM |
| Sunday, April 22, 2018 | Penn State | at | Rutgers | 7:00 PM |
| Saturday, April 28, 2018 | Rutgers | at | Ohio State | 4:00 PM |
| Saturday, April 28, 2018 | Michigan | at | Penn State | 11:00 AM |
| Thursday, May 03, 2018 | B1G Semifinal | vs | B1G Semifinal | 5:00 PM |
| Thursday, May 03, 2018 | B1G Semifinal | vs | B1G Semifinal | 7:30 PM |
| Saturday, May 05, 2018 | B1G Championship | vs | B1G Championship | 7:00 PM |
BTN WOMEN?S LACROSSE TELEVISION SCHEDULE (All Times Eastern)
| | | | | |
| --- | --- | --- | --- | --- |
| Wednesday, March 14, 2018 | Drexel | at | Penn State | 4:00 PM |
| Monday, March 19, 2018 | Princeton | at | Penn State | 4:00 PM |
| Thursday, March 22, 2018 | Johns Hopkins | at | Penn State | 7:00 PM |
| Friday, March 23, 2018 | Michigan | at | Northwestern | 8:00 PM |
| Monday, March 26, 2018 | Syracuse | at | Northwestern | 2:00 PM |
| Saturday, March 31, 2018 | Maryland | at | Michigan | 3:00 PM |
| Thursday, April 12, 2018 | Michigan | at | Rutgers | 7:00 PM |
| Sunday, April 15, 2018 | Maryland | at | Ohio State | 12:00 PM |
| Thursday, April 19, 2018 | Penn State | at | Maryland | 7:00 PM |
| Thursday, April 26, 2018 | Northwestern | at | Maryland | 7:00 PM |
| Saturday, April 28, 2018 | Michigan | at | Penn State | 2:00 PM |
| Friday, May 04, 2018 | B1G Semifinal | at | B1G Semifinal | 5:00 PM |
| Friday, May 04, 2018 | B1G Semifinal | at | B1G Semifinal | 7:30 PM |
| Sunday, May 06, 2018 | B1G Championship | at | B1G Championship | 12:00 PM |