John Tolley,

January 20, 2018

For Indiana University alum Simba Chen, what drew him to Bloomington was an opportunity to pursue a degree in management at one of the most prestigious schools in the nation, the Kelley School of Business. But Indiana?s storied basketball legacy didn?t hurt.

?I?ve followed basketball my whole life,? says Chen, who is now working for a boutique financial firm in Bloomington. ?I?m a player myself, and I?ve always followed college basketball and the NBA. Basketball in China is huge.?

Born in Taiwan and educated at an international school, Chen has been speaking Mandarin Chinese and English for the better part of his life. Being bilingual in two of the world?s most spoken languages isn?t just a skill that has served Chen well in his burgeoning business career, though. It?s how he became one of the original broadcasters of the IU Mandarin Radio Club (IUMRC), which covers all home men?s basketball games in the dialect.

The program, which got underway during the 2015-16 basketball season, is the first program of its kind in the US, and closely aligns with the core values of the university?s Bicentennial Strategic Plan, particularly expanded global engagement. With over 10,000 Chinese-speaking students and alumni, the program gives Indiana a chance to connect with Hoosiers at home and around the world.

Student broadcasters receive training from the university?s Mark Cuban Center for Sports Media and Technology in the mechanics of game coverage along with the technical aspects of digital broadcasting, which they handle themselves.

?It?s basically what you?d expect from an English-language broadcast. We have two people on air at a time, one being the [play-by-play announcer] the other being the color commentator,? explains Chen, who has watched the program grow from having only two broadcasters per game to now having so many they often have to switch at halftime.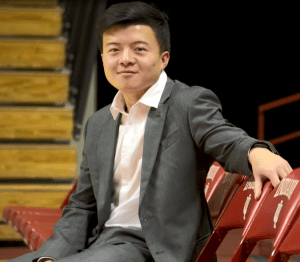 According to senior informatics major Yixie Wu, president of the IUMRC, the program is helping students develop leadership and communications skills crucial to any profession. In addition to their gameday duties, the students are also in charge of setting lineups, pregame research and social media promotion of the broadcasts.
It?s one major step in a direction that Wu sees leading to greater outreach to all foreign language-speaking students, with broadcasts possibly spreading to other sports, or even spurring the creation of round-the-clock Mandarin radio station on campus that would touch on topic outside the world of sports. But for now, Wu says he?s happy to share his passion for the game with fans and fellow students from a rare vantage point.
?My favorite part is being able to work with other people that like basketball as much as me and being able to instill that passion in new broadcasters.?