Scott Smith,

December 3, 2017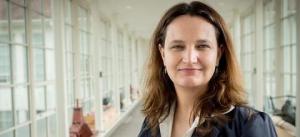 When we look for LiveBIG stories, we look for people who create innovation, impact and inspiration in the fields of science, the arts or philanthropy. Most projects check at least two of those boxes, some even check four, but University of Wisconsin alum Rachel Rose?s work behind-the-scenes on the new Star Wars films checks all of them.
A recent profile on Rose describes her journey from Wisconsin?s computer science department to the halls of Industrial Light and Magic, Lucasfilm?s legendary visual effects and animation studio.
Rose completed her master?s degree in computer science at Wisconsin in 2003 and a Ph.D in the program in 2007. And it was her time at Wisconsin that led directly to her job at ILM:
?The CS program is full of fantastic professors who were really motivating,? she says. ?They helped me make connections so by the time I was out of grad school, I already knew a lot of people.?

One of those connections, fellow computer sciences grad Lucas Kovar, worked at Industrial Light & Magic in San Francisco and put in a good word for Rose. She was hired right out of school as an engineer in research and development, the group that builds technology - or improves its quality or efficiency - so artists can bring images to the screen.
Rose's early work was on high-profile films like The Avengers, Mission Impossible: Ghost Protocol and Captain America: Winter Soldier.
Now a supervising research and development engineer at Industrial Light and Magic, Rose led the animation and creature development team on The Force Awakens. This involved helping artists develop rigs that allow creatures in the film to move.
On the most recent Star Wars film, Rose worked on the team that designed and developed an innovative new digital camera technique:
For instance, she?s credited on Rogue One, the first standalone Star Wars film released last year, for helping to design and develop a new virtual camera system that moves like a film camera but allows the director to see the results of his movements within a digital scene.

?[Director] Gareth Edwards used the virtual camera to record digital camera moves during the space battle in a handheld way that better matched the feel of the rest of the film - but at a huge scale, since the space battle is humongous,? she says.
What did that look like on set? Like this:
And what did it look like in the movie? Like this:
In explaining this process, Film School Rejects notes that prior to the development of this camera system, shots like that would take weeks of work to accomplish. But the above was conceived, shot, rendered and released in under a week.
Rose is obviously helping pave the way for the next generation of film production, but – perhaps more importantly – she?s also helping create a path for the next generation of filmmakers.
Back in February, the New York Times profiled Rose as part of a group of women leading the way at ILM:
After her development of virtual production and camerawork for the 2016 Jyn Erso adventure ?Rogue One: A Star Wars Story,? Ms. Rose was recently promoted to supervisor of research and development. She is part of a quiet revolution now taking place at the company, where women account for 60 percent of studio leadership, and have created memorable effects for many blockbuster franchises, including ?Star Wars,? ?Indiana Jones,? ?The Avengers,? ?Star Trek? and ?Jurassic Park.? Women also account for half of the company?s entry-level ranks.
Rose is also working with Code.org, a non-profit that offers free computer programming lessons online, to get kids – especially girls – started on that path.
Star Wars films have long inspired young people to bring their own virtual world-building to life. Much has been written about how the Lukes and Hans of this world are passing the baton (or perhaps the lightsaber or blaster) to the Reys and Jyns. With her innovative R&D work in the worlds of arts and science, Rachel Rose shows that equal representation behind the camera creates something incredible in front of it.