John Tolley,

November 5, 2017

For John Howarter, an assistant professor of Materials Engineering at Purdue University, it started as a project not unlike countless others he?d helped students with before.

?To be honest, it was a way to work with students at Purdue and do some engineering design,? says Howarter, who has a joint appointment in Environmental and Ecological Engineering at the university. ?I thought, we?re going to make some interesting technology in the lab, students are going to take it for class, they?re going to graduate and that was going to be the end of it.?

But that wasn?t the end of the story for Howarter and his students, who created an innovative update to an ancient technology. It turns out that their take on the sand water filter had utility well beyond West Lafayette.

?We actually had partners in other countries that could use the technology and we actually had the opportunity to deploy it,? Howarter explains. ?It started out as a very small project that was focused on Purdue?s educational mission, and it turns out we?ve been able to translate it to change the lives of people all over the world.?

Working with a Kenya-based startup Maji Safi - the name means ?safe water? in Swahili - students at Purdue?s Discovery Park innovation hub took on the task of creating water filters to meet the needs of schools across the globe where access to clean drinking water is a major hindrance to the learning process. In addition to Kenya, the Purdue filtration system is used in China, Colombia, India and Tanzania.

The filters are simple to set up and easy-to-use. Untreated water is poured into a sand-filled, five-gallon bucket, wherein natural bacteria grown on the sand set about clearing away most organic contamination. After a few hours, the water comes out largely clean and clear. Small amounts of chlorine are added to round out the treatment process.

While sand filtration is not a new concept, Purdue engineers and students updated the general design of their filters by replacing a commonly used gravel layer with a thin, porous plate that keeps the sand from exiting the bucket along with the clean water. The update means more room for bacteria-bearing sand and thus a greater capacity for filtration.

As Howarter notes, the team doesn?t make a one-size-fits-all filter for their partners around the world, but rather analyzes each situation to see what type of filtration system is needed.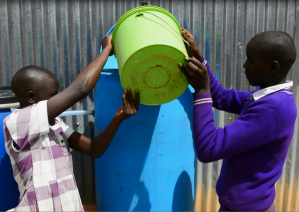 ?The original design was based on five-gallon buckets, which is appropriate when there are twenty students, such as at a typical Colombian school that we?re working with,? he explains. ?But in Kenya, we?re talking about schools that have hundreds of students and so we needed to scale up. Now we use 55-gallon drums that can treat 200 liters at a time.?
For Sydney Weiss, a recent Purdue graduate and member of the design team responsible for scaling up the filter for greater accommodation, the experience reinforced for her the university?s dedication to producing thoughtful engineers.
?I think that successful engineering is based around listening to people?s needs,? says Weiss. ?I think that not addressing the user is the biggest mistake an engineer can make. A lot of environmental and archaeological engineering here at Purdue is inner-disciplinary study; it?s about incorporating the social aspects with the science aspects. It?s not just about looking at a math problem; it?s about looking at the culture and the language and how people will see our filter in the community.?