Laura Depta,

October 20, 2017

Cathrine Reck says Indiana University students are ?the most philanthropically spirited students I have ever seen in my entire life.?

Reck, Director of Undergraduate Studies and Clinical Professor in Indiana?s Department of Chemistry, takes two groups of those students on service learning trips each year - one to Guatemala and one to the Dominican Republic - through the student chapter of Timmy Global Health (TGH).

TGH is an Indianapolis-based nonprofit that expands access to healthcare and empowers students and volunteers to tackle today?s most pressing global health challenges. IU was home to the first student chapter, of which there are now dozens nationwide.

Reck has been the group?s faculty advisor since its inception in 2002.

?It really is all a student initiative,? says Reck. ?If we didn?t have students doing this, and they didn?t have this call for philanthropic spirit, the nonprofit called Timmy Global Health up in Indianapolis wouldn?t be having the impact that they are.?

Each trip lasts one week, and each is part of a 16-week service learning course taught by Reck. Though the trips are focused on medical relief and clean water, respectively, course curriculum places a focus on each nation?s history, culture and politics as well.

Medical Relief in Guatemala

The trips to Guatemala began in 2009. TGH partners with an in-country organization there called Pop Wuj to set up medical clinics in four remote villages.

Students spend long days working in the clinics, taking medical histories and patient vitals. They join a team of doctors, pharmacists, translators and a dentist to form a medical brigade that helps ensure patients receive care they would not otherwise have access to.

Sustainable healthcare is a primary focus. The IU student chapter travels to Guatemala once a year, but with the help of other TGH student chapters, a medical brigade visits every 2-3 months. This way, communities receive adequate medication refills and continuing care.

?You have to develop trust or else the people aren?t going to believe that you?re bringing them something that?s real,? says Reck. ?So we need to go in in a faithful and sustainable way.?

The Guatemala trip led to an important discovery, and eventually, an entirely new trip.

Clean Water in the Dominican Republic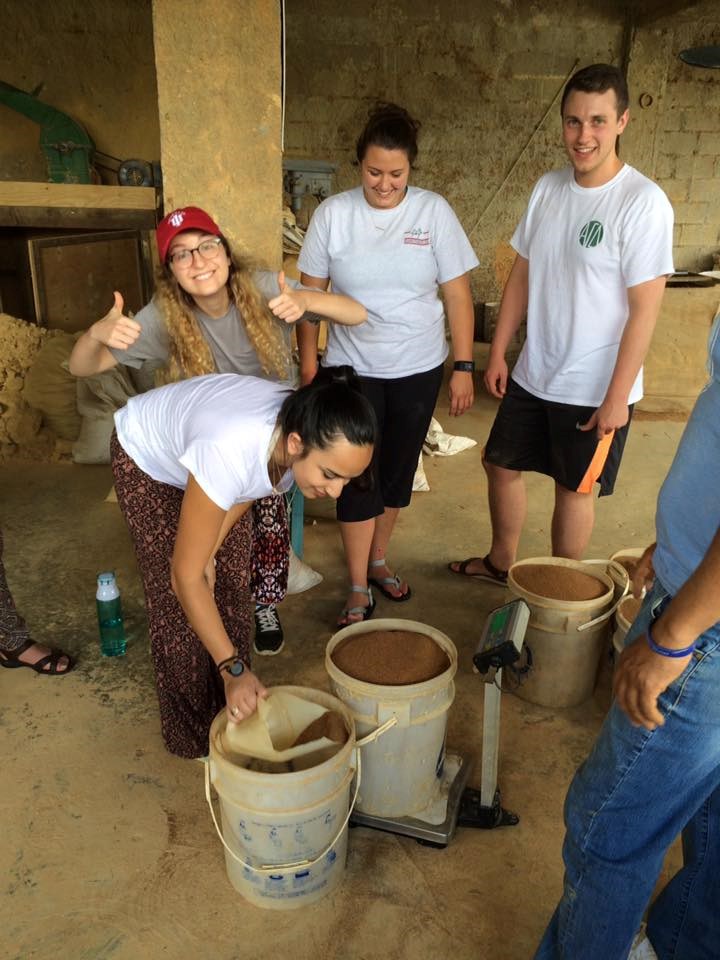 During each medical relief trip, systematic notes are taken and recorded digitally. According to Reck, TGH began to notice that a high percentage of chronically prescribed medications were for water-borne illnesses.
?So, Timmy Global Health wanted to move into water,? says Reck. ?It?s called an upstream approach. If you can clean the people?s water, a lot of their health concerns can go away.?
For the past two years, IU students have traveled to the Dominican Republic to work in factories building clay water filters that use silver to kill off viruses and bacteria. Students also distribute the filters and spend time in family homes taking medical histories.
Both trips are impactful, for students and the communities they visit, and it?s much more than healthcare. Reck recalls her students teaching a group of people in the Dominican Republic to play Jenga, despite speaking a different language.
?It?s just playing Jenga with the villagers so that [the students] get that we all do the same thing - you know, having fun and laughing. You don?t have to speak the same language to actually have fun.?
Reck also talks about a new perspective she often sees among her students - new revelations about poverty, happiness and the shared experience of humankind.
?I see this growth of maturity every trip, and it?s fascinating,? says Reck. ?It?s so beautiful watching students come to this personal growth epiphany every single time.?