John Tolley,

September 27, 2017

Of the roughly 7 billion people on our planet, approximately 2.5 billion eke out their existence on less than $2 a day.

These people, who live primarily in the developing areas of the world, struggle daily to obtain food, water, shelter and basic medical care in rudimentary subsistence marketplaces.

In a new book, co-written by University of Illinois at Urbana-Champaign professor Madhu Viswanathan, thirteen people born into poverty in India share their stories, illuminating how socioeconomic circumstances have and continue to shape their worlds.

Speaking to the University of Illinois New Bureau in May, Viswanathan, the Diane and Steven N. Miller Professor in Business at Illinois, explained that the book, Voices from Subsistence Marketplaces, takes a different tack than most volumes concerning modern markets.
?This book is really about giving a voice to people living in subsistence marketplaces and learning about their dreams, ambitions and search for fulfillment,? said Viswanathan, who founded and directs the Subsistence Marketplaces Initiative in the College of Business (SMI), a pioneering, bottom-up approach to the study of poverty and marketplaces for scholars and practitioners. ?The idea is to amplify those voices, with minimal interpretation and academic theory behind it.?
The book is a prime example of that bottom-up approach, one that looks at the markets not on a macro level, but from the point of view of subsistence consumers and entrepreneurs who have to make difficult choices every day to survive. With most people having no concept of life in abject poverty, Viswanathan says that it is important to hear of the harsh realities people face.
With help from a trusted field team of researchers and social workers, Viswanathan traveled multiple times to both rural and urban India to document the stories in the book. By sharing their often painful lives with readers, he says, the subjects are helping to create opportunities for a more prosperous and equitable tomorrow for future generations.
While the book is not an academic endeavor - Viswanathan likens it more to a documentary - efforts such as the SMI and the Marketplace Literacy Project (MLP), of which Viswanathan also directs, are affecting real change.
According to their website, the SMI ?seeks to develop and disseminate actionable knowledge for creating sustainable solutions for subsistence marketplaces.? Using top-level research methods and on-the-ground learning, the SMI is following consumer and marketplace behavior in an effort to raise awareness. To this end, the SMI includes a robust educational component that reaches thousands of students a year at the University of Illinois and online and boasts one of a ?one-of-a-kind international immersion experience.?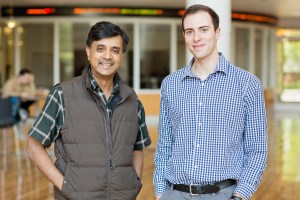 The Marketplace Literacy Project aims to educate low-income, low-literacy people on how best to navigate their economic lives. The MLP also works with business, governments, non-profits and non-governmental agencies to improve market practices.
Also worth noting is the contribution of Illinois graduate Steven Morse, who worked with Viswanathan to bring the Voices from Subsistence Marketplaces to life online. The web portal is a repository for stories, featuring words and photos from those featured in the book, and, in the future, more stories collected from South India and around the world.