John Tolley,

September 12, 2017

(Photos: James Brosher/ IU Communications)

When you think of how to have an awesome summer, we?re guessing these two words don?t immediately jump to mind: tree census.

But, for a group of Indiana University-Bloomington researchers it has been a dream come true; a chance to take stock of one of the only old-growth forests in the state, one that serves as an important indicator of the overall health of our environment.

The Lilly-Dickey Woods, located 45 minutes from the Bloomington campus, serves as a living lab for IU biologists and an important research space for other university departments. The census team, led by Mark Sheehan, a technician in the IU Bloomington College of Arts and Sciences' Department of Biology, tagged and measured 30,000 trees across the wood?s 62 acres.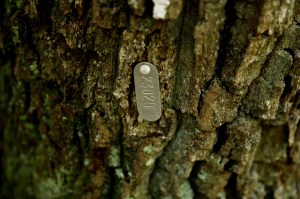 It was a chance for the researchers to assess the natural environment and see what changes have occurred since the last tree census in 2012. Both surveys of the Lilly-Dickey Woods were conducted with support from the Smithsonian Institute?s ForestGeo network, a collection of forests around the world whose study is crucial to our knowledge of trees and climate change.
Its tough work, says Sheehan, noting that the team has had to wind their way through thickets of dense underbrush and battle bugs and heat in an effort to measure the trees. But it is all worth it for the chance to further the understanding of how forests adapt to climate change and other factors over time.
"The long-term collection of data from forests across the globe is incredibly important to scientists studying the impact of changing temperatures and carbon dioxide levels on the environment," says Richard Phillips, professor in the Department of Biology and director of the IU Research and Teaching Preserve, speaking with IU News. "You can't prove that something has changed if you're missing baseline data to compare your observations against."
The team is playing close attention to the biodiversity of the Lilly-Dickey Woods and how it compares to other old-growth forests across the planet. In addition to the measurements they?re taking, the researchers are also documenting the life-cycle of the area, how many and what size trees are dying and how that impacts new growth.
The census is on pace to be wrapped up by the end of the month. At that time, the team will compile their research and add it to the larger ForestGeo network database of information for scientists around the world to use.