John Tolley,

September 2, 2017

Consider the poor tuba, an instrument capable of producing a rich and sonorous sound, but often considered merely a supporting player; a lovable lug and the loping engine of countless Oom Pah bands. It?s a dominating, ponderous instrument, requiring a powerful performer to summon forth its full range.

For many in the music world, there was none more powerful a performer than Harvey Phillips, a man whose love for the instrument earned him the sobriquet Mr. Tuba.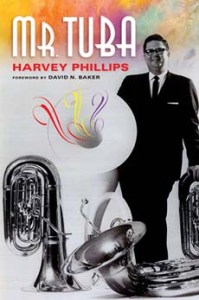 In his autobiography, aptly titled Mr. Tuba (Indiana University Press), Phillips, who spent 23 years as a Distinguished Professor of the Jacobs School of Music at IU, recounts the colorful path that led him to becoming the undisputed king of that big brass horn.
Born in Aurora, Missouri, Phillips? family was a musical one, with a father who played the fiddle and uncles who joined in on ?guitars, mandolins, harmonicas, Jew?s harp, spoons, jugs, washboard and piano.? For the Phillips clan, music was a way of uplifting the spirit during the dog days of the Great Depression.
Although he ably picked up his father?s fiddle, the string instrument was ill-suited for the school marching band. So when the young man who previously played the school?s only sousaphone left to serve in WWII, Phillips was overjoyed when he was chosen to take over at the ?bass horn.? He began to study under his first mentor, town bandleader Major Homer F. Lee, soon thereafter.
A quick study, by the age of 18 Phillips literally ran away from home to join the circus, playing for 4 years with the outfits as esteemed as the Ringling Bros. and Barnum Bailey Band before landing a spot in the Julliard School. With the help of his next mentor, William Bell, he was soon playing with the New York City Opera and New York City Ballet orchestras.
In his spare time, Phillips formed the New York Brass Quintet and began to explore the role of tuba in jazz. He was in such demand as a skilled tubist that composer were soon writing pieces with him in mind.
A performer?s life can be hectic, though, and with a young family, Phillips longed for routine. He found it in the academic world, first at the New England Conservatory of Music and finally at Indiana University.
In Bloomington, it was Phillips turn to be the mentor, and that he did. Students flocked to the dynamic professor, and the ranks of tuba players - and players of tuba adjacent instruments, such as the euphonium and baritone - swelled. His home outside of Bloomington, where he hosted many musical events, formal and informal, was affectionately called the Tuba Ranch.
Although Phillips passed in 2010, his indelible stamp on the world of music can still be felt today, from the broadened perception of his beloved instrument to the number of events he organized to raise it?s stature.
Today, Phillips? Tubachristmas, an event first held in New York?s Rockefeller Center Plaza on December 22, 1974, has spread to cities worldwide, drawing scores of tubists to perform classic carols and celebrate that big bass horn.