BTN Communications,

August 28, 2017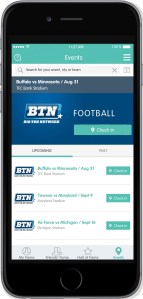 Smile, Big Ten fans, you?re on TV. And video proof is on its way to your phone.
Starting with Thursday?s Buffalo at Minnesota showdown at TCF Bank Field (7 p.m., BTN), for the first time ever, fans who appear on Big Ten Network game telecasts can have their TV moment sent directly to their phone thanks to a free app called 15 Seconds of Fame (15SOF).
Fans simply download the app through iTunes or Google Play, take a ?selfie? when they sign up, and check in to the game that they are at. If they are filmed by BTN?s cameras and appear on TV, 15SOF will automatically send the clip right to the user?s phone through their app account. Once the clip arrives, it can be shared instantly across social channels. 15SOF is even able to deliver clips to fans if they register for the app after they appeared on camera.
?During our first trials at the University of Michigan, we quickly realized that the college game day setting was a sweet spot for us,? said Brett Joshpe, CEO of 15SOF. ?College sports fans are immersed in both the game experience and mobile social engagement, including sending each other memorable moments and highlights from the event. Now they can receive the ultimate commemoration of the day - video of themselves - that can be shared with their entire network.?
15SOF will record and process every BTN football feed this season, and the app?s unique technology will sort, edit and deliver the clips to fans.
BTN is the first network to partner with 15SOF, and with more than 40 football games on the schedule for 2017, Big Ten fans at stadiums around the country will have ample opportunity to turn the game experience into a digital memory that will last a lifetime. The app will also be available for college basketball fans who appear on BTN game coverage this winter.
15OSF beta tested the app at Michigan in 2015 and the school will continue to provide fans at Michigan Stadium with their videoboard moments this season. Wolverine fans can add television to their sharable video moments when BTN arrives on campus for the Michigan-Air Force game on Saturday, September 16 at noon Eastern.
15SOF also has partnerships throughout the NCAA and professional sports, including an agreement to deliver all video clips of fans who appear on TV during Major League Baseball games.