Courtney Jacquin,

June 16, 2017

Nicoletta Fala and Chloe de Perre?s blog, fittingly, opens with an Amelia Earhart quote.

?I have often said that the lure of flying is the lure of beauty,? it reads. ?That the reasons flyers fly, whether they know it or not, is the aesthetic appeal of flying.?

The two women, members of the Purdue Pilots, Inc., Purdue University?s student-run flying club, began blogging to share their experiences in preparation for the 41st Air Race Classic, the first time either will be participating in the race.

Air Race Classic is the annual all-women cross-country airplane race. Fifty-four teams, consisting of 118 women pilots from across the world, will take off Tuesday, June 20, from Frederick, Md., for a 2,648-mile race across the U.S. that ends Friday, June 23, in Santa Fe, N.M.

The race is the oldest of its kind in the country, tracing its roots back to the 1929 Women?s Air Derby, where Amelia Earhart and other female pilots raced from Santa Monica, Calif. to Cleveland, Ohio.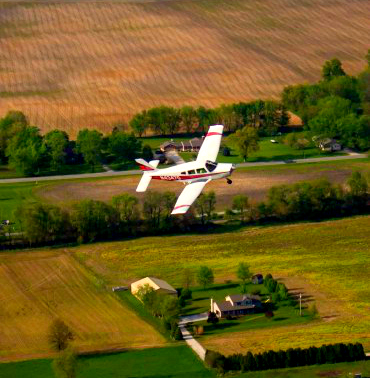 ?It?s a good experience to have as pilots ? it?s going to be a lot of fun, we just need to make sure we?re prepared going into it,? said Fala, the pilot of the flight.
Fala is currently a Ph.D student at Purdue?s School of Aeronautics and Astronautics, researching general aviation safety. A Cyprus native, she came to Purdue as a Fulbright Scholar as an undergraduate student to study aeronautical and astronautical engineering and stayed to complete her master?s degree, and now a PhD.
Fala started flying in 2012 and received her pilot?s license in 2013, after becoming interested as an undergrad.
?There are just so many planes flying around here all the time,? Fala said of Purdue.
Purdue Pilots, Inc. - Fala is the vice president - is a way for those interested in flying or learning to fly to connect outside of Purdue?s professional flight degree.
?If you?re an engineering student or a physics student, it?s not always easy to find other pilots ? so we have flying club to help people to get to know each other, make friends who share the same interests, and help them with their training,? Fala said.
De Perre, the co-pilot for the Air Race Classic, has been a member of the club since coming to Purdue in 2014. De Perre, originally from France, is a chemist at the university, managing a lab in the Department of Agronomy.
Fala and de Perre are the only two members of the club who have the rigorous credentials the race requires. According to Air Race Classic, pilots and copilots must have at least 100 hours as pilot-in-command in order to qualify for the race. One must have at least 500 hours as pilot-in-command or a current instrument rating.
The 54 teams of two or three pilots will have four days to complete the course, flying normally aspirated, piston-powered airplanes in visual flight conditions during daylight hours.
Fala and de Perre will be flying a Piper Warrior II aircraft in the race. Fala said their aircraft may be one of the slowest in the race this year. The teams in the race fly a variety of different aircrafts, so the winner will not necessarily have the best time, but the best time for its handicap.
?We?re not really racing against each other, we?re racing against ourselves,? Fala said.
At each of the eight intermediate stops - Coshocton, Ohio; Indianapolis, Ind.; Decorah, Iowa; Bemidji, Minn.; Spencer, Iowa; Abilene, Kan.; Ardmore, Okla.; and Plainview, Texas - teams will do high-speed flybys over a timing line as they race against the clock. Faster planes may cover the course in only two days; slower teams may not arrive in Santa Fe until moments before the arrival deadline at 5 p.m. on June 23.
De Perre said going into the race it?s overwhelming, but the two are ready for the challenge.
Fala and De Perre will be documenting their progress during the race on their blog, purduepilotsarc.wordpress.com.