Eli Kaberon,

June 2, 2017

A native of the Midwest, Liz Anna Kozik spent much of her childhood surrounded by prairies. Yet it wasn?t until Kozik left her home in Naperville, Illinois, for her undergrad studies in Rhode Island that she began to appreciate their beauty. She opted to go to graduate school at the University of Wisconsin - not just so she could be close to the prairie again, but also to study the grassy habitat?s history.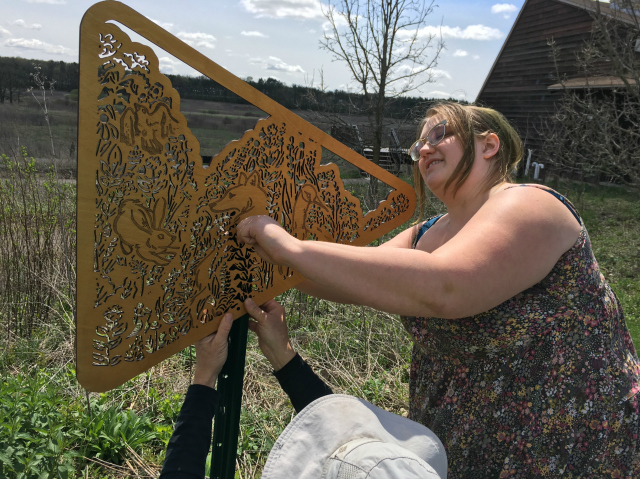 In April, as part of her master of fine arts thesis, Kozik unveiled the art exhibit ?Stories of the Land? at the UW-Madison Arboretum. The exhibit tells the stories of Curtis Prairie, which was the first prairie restoration in the world. Kozik wanted to really give a visual demonstration of how prairies had changed and what impact restorations have, so the exhibit features a mixture of custom-built wooden signs, comics and hand-woven tapestries.
?I?ve always been very interested in the history of floral patterning and floral decorations,? Kozik said. ?The University of Wisconsin is uniquely special because we have a tenured professor, Lynda Barry, who is an internationally recognized comic artist who has been working in the field for years and years. And she is a big advocate of doing academic research through comics. And so my initial interest in drawing prairies and looking at environmental history merged perfectly with taking a class of hers.?
Kozik said that it was especially important for her to focus on prairie restoration because it represents a climate change for the better. So much of what the public reads and hears when it comes to the environment is negative, which leads people to feel overwhelmed and eventually disinterested, according to Kozik. ?Stories of the Land? reflects how humans have improved the Earth.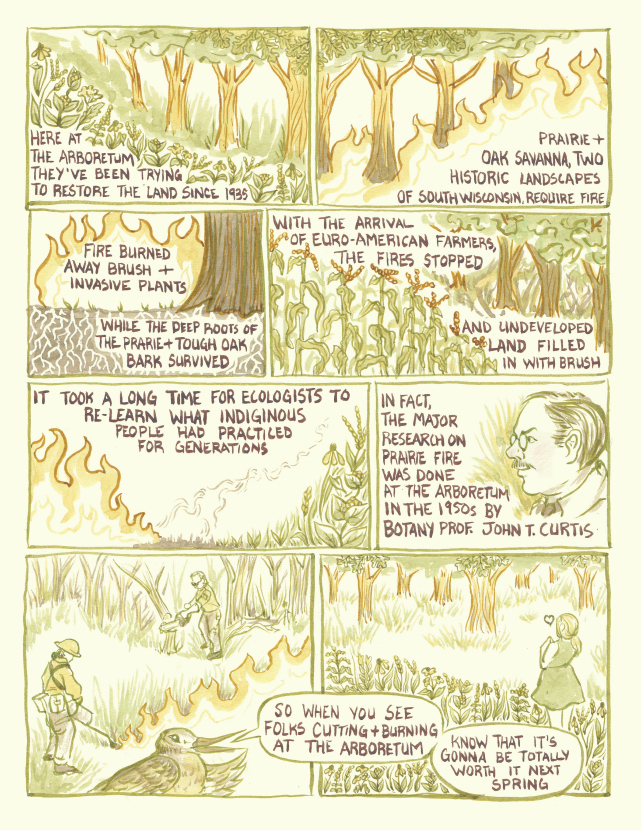 ?The story of prairie restorations is the story of trying to do something good, to make a difference and to care about their local environment,? Kozik said. ?So that feels especially pertinent in terms of the current political climate, and all that.?
Once Kozik decided she wanted to focus on prairies and tell their stories through different types of art, she had to figure out the best way to do that. Before going to Wisconsin, Kozik worked in commercial design, so she sought a way to utilize her artistic background. With Barry?s guidance, Kozik decided that comics would be the best route. The challenge came in figuring out how to best accomplish that.
Most thesis papers are lengthy and detailed, trying to pack as much information in as possible. Comics, meanwhile, are focused on brevity, conveying an elaborate message in just a few words. That juxtaposition meant lots of rewrites and edits for the author.
?Academia is all about the precision of language,? Kozik said. ?It?s all about spelling [out] every last detail, making sure you covered all your bases and being perfectly deliberate in what you?re saying. And comics are about the efficiency of language, utilizing every last space on the page to write out an essay. If it?s too wordy, people aren?t going to read it. And so there?s this irony, which I found very interesting and exciting, of finding a balance between academic over-explaining and over-simplifying too much. That was a great challenge.?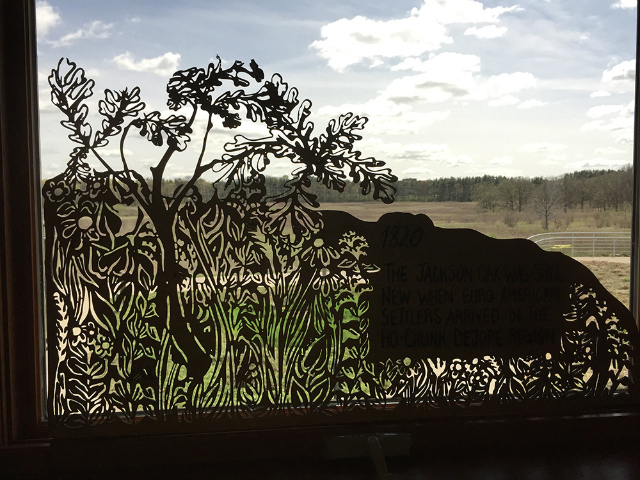 Along with the comics, Kozik tells the stories of Curtis Prairies in other art forms. The wooden signs Kozik created all feature an original design that was laser cut into birch plywood. The tapestries were hand-woven and also include text she researched and wrote.
?Stories of the Land? was original slated to end June 8, but Kozik said it the exhibit will be extended through December as she continues working towards her PhD.