John Tolley,

May 29, 2017

No one is sure exactly where and when Memorial Day was first observed. Days set aside to gather with family and friends to decorate cemeteries have long been a common spring time occurrence across the nation.

After the Civil War, Americans met annually to adorn the graves of those who laid down their lives in the preservation of our union. So began the tradition of honoring our women and men in uniform who made the ultimate sacrifice for our country.

Today, LiveBIG takes a look at how the Big Ten Conference supports our military, their families and their communities. We salute all those who serve, have served or are planning to serve. Have a happy Memorial Day.

?The most sincere thank-you is an easy transition.?

That?s the motto of the Home Base Iowa program, and it?s not hard to understand why. After coming home from dangerous, grueling combat deployments, many of today?s military veterans want nothing more than a speedy, straightforward return to the civilian life they left.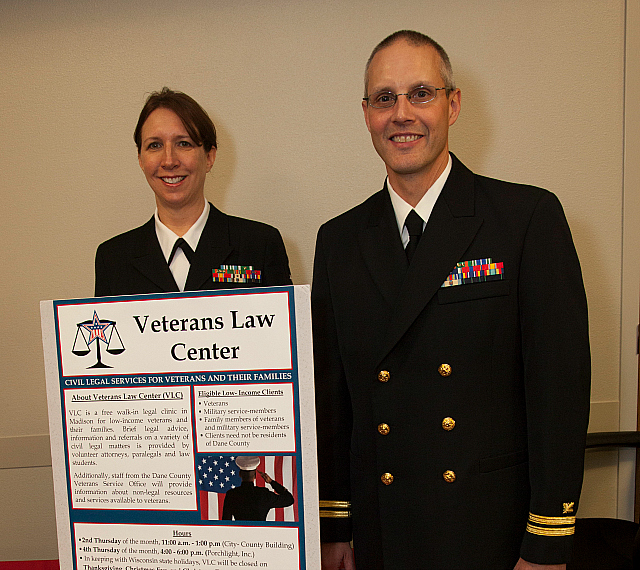 It was a phone call that Laura Smythe was tired of receiving.
Every week, Smythe was fielding numerous calls from veterans or their family members or their friends, all with a similar refrain. While they had heard about the University of Wisconsin?s Veterans Law Center and were in need of its help, they lacked a means of transportation to get to one of the monthly clinics the center held in Madison.
?Given the frequency with which I was receiving these phone calls, it meant there was obviously an unmet need,? says Smythe, director of the UW Law School Pro Bono Program which oversees the VLC.
So she decided to take the show on the road. This August saw the first mobile VLC clinic bring needed legal assistance to veterans outside of the Madison area.
He could have just accepted his degree from Northwestern University and joined the workforce 14 years ago. But he didn?t.
He could have completed his commitment to the U.S. Navy after serving during Operation Iraqi Freedom aboard the USS Bunker Hill (CG-52) and joined any major corporation in Chicago. But he didn?t.
Todd Connor saw an opportunity to serve his country after graduating from Northwestern. And after working in a number of roles following his ?graduation? from the Navy, he saw an opportunity to serve his fellow veterans.
Now he?s about to change the business landscape for them.
Veterans are prepared for many things during their military training from managing combat scenarios to life-saving battlefield medicine to operating advanced technology. But they are often less prepared for the transition from military to college life. While the new, post-9/11 GI Bill provides 36 months of free tuition for any veteran who serves at least three years, it does not provide guidance on moving from a military culture to an academic one.
For Penn State?s Erik Orient, this is a familiar feeling. Not only did Orient serve 22 years in the US Marine Corp - completing both his undergraduate and graduate degrees while still on active duty - but he currently serves as director of the Penn State Engineering Ambassadors program.
Military service is a noble, but grueling, endeavor. From the battlefield to the base to back home, service members and their families bear the burden of a unique set of stresses. Those in uniform face life-threatening situations and relentless pressure. Their loved ones face the absence of a parent or partner. At home, as life is reshuffled, dynamics change and duties are reassigned. When families are reunited, the joy they feel can be quickly overshadowed by an arduous period of readjustment.
Enter Family Battle Buddies, a new program from the Indiana University School of Public Health-Bloomington that uses a host of games and activities to boost communicative and cooperative skills in families with a deploying or returning service member.