John Tolley,

April 23, 2017

According to Pablo Lopez?s mom Veronica, her son has been positively ebullient since he got his new car. He?ll even wake her, she says, excited to get behind the wheel and take it for a spin.

A kid being excited about his ride isn?t exactly news, until you consider a few key factors. First, Pablo isn?t yet 16. Second, Pablo suffers from Spina Bifida, a birth defect resulting in deformation in the vertebrae and spinal column. As a result, Pablo?s lower trunk and legs are extremely weak.

The car that he?s been cruising around in isn?t of a make or model you?ll find on any showroom floor. Rather, it?s an important tool helping Pablo build his strength while having fun. And it was all made possible by a student-led organization called GoBabyGo@IU.

?GoBabyGo is program that modifies electric children?s vehicles for kiddos with disabilities of all kinds,? says Michael Mohr, a Ph. D. student in the Indiana University Physical Therapy Program at IUPUI and the group?s co-founder. ?The idea is to turn them into cost-effective therapeutic vehicles for these kids.?

When a child is referred to GoBabyGo@IU, which is an offshoot of a program started at the University of Delaware, their needs are assessed and goals are set by a professional physical therapist. The GoBabyGo team of physical therapy and engineering students then go about designing a vehicle that will challenge target areas. That could mean a modified seat that encourages standing and leg strength or a dual starter/accelerator system to hone coordination. And, thanks to generous donations and volunteer support, GoBabyGo is able to offer these vehicles free of charge.

Dr. Sara Davis, the primary physical therapist for GoBabyGo@IU, says seeing the excitement and motivation the children gain from their newfound independence has been incredibly rewarding.

?Physical therapy, especially in the pediatric realm is predominately very clinical,? explains Davis. ?It gets monotonous for children. By having some kind of an alternative vehicle or some other way to participate in therapy, it gives them a whole new outlook on how to participate in therapy.?

The benefits of physical therapy are not limited merely to structural improvements in a child?s body, says Davis, but have far-reaching effects on the whole of the person. Crawling, for example, necessitates the use of both sides of the body and thus communication between both sides of the brain. And, when a child is mobile, they can explore, and learn more about, their world.

Children also benefit from the increased interaction with their peers that GoBabyGo vehicles grant them. The freedom to play allows them to form bonds and friendship, build trust and cultivate interpersonal skills.

Davis happily notes that Pablo?s new ride has been turning heads and made him the toast of his school when the GoBabyGo team delivered it. ?He absolutely had the biggest smile on his face. He wanted to go show every teacher what he was doing, how he was standing, how he was driving the car and all of his friends wanted to see it. They all wanted to go for a ride.?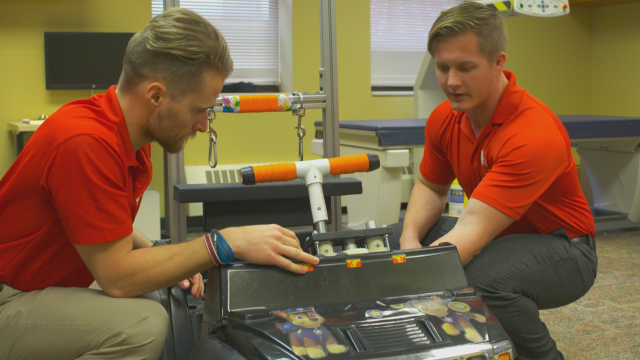 Pablo?s car has proved so popular, in fact, that he?s already had to bring it into the shop for repairs.
?He used the vehicle so much that he ended up breaking it,? says Andrew Wiseman, GoBabyGo@IU?s other co-founder, cheerfully. ?We realized that we were going to need some big changes because he was putting a lot of force into it [as] he was getting stronger.?
On the horizon, Mohr, Davis, Wiseman and the rest of the GoBabyGo team are working to grow the organization such that it can fulfill the overwhelming amount of requests they?ve received. They?ve also started a series of GoBabyGo community days that bring together children, their vehicles and their families for a day of recreation and bonding, and are hoping to expand that aspect of the program.
?The social development side is kind of the end goal,? says Wiseman. ?Having the kids play and interact with their peers is just amazing.?