Matthew Wood,

April 21, 2017

Police canine working dogs do some of the dirtiest work on the force, helping to save endangered citizens while sniffing out drugs and rooting out bad guys on a daily basis.

But what happens when they get injured — or worse — while on the job? A group at the University of Illinois College of Veterinary Medicine wants to make sure a cop?s best friend is treated as such. They have partnered with law enforcement as well as local hospitals and ambulance services to ensure dogs who need help are taken care of while on duty.

?These police dogs, they?re doing so much good out there,? said Maureen McMichael, a veterinary clinical medicine professor at U of I who has been working with dogs for nearly two decades. ?I hope I never need one. God forbid my kid gets lost in the woods. They?re just amazing.?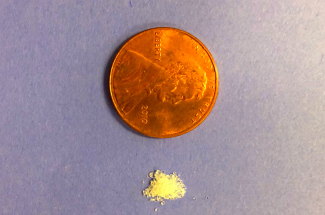 One goal is to provide directions for how to treat dogs that have come in contact with illegal — and possibly life-threatening — drugs such as heroin and now the more powerful synthetic versions called fentanyl and carfentanil. The other is a bill currently in the Illinois legislature that would legally make it appropriate to transport dogs in an ambulance.
U of I has partnered with Carle Foundation Hospital as well as Carle Arrow Ambulance in order to provide training for emergency medical technicians. They want to have a blueprint for providing the proper care for dogs who are injured in the field, from the first responder to the hospital.
?We?re partnering with two doctors at Carle,? McMichael says. ?We?re calling it the Working Dog Treat and Transport protocol. It?s a guide of what to do, where to take the dog and who to call. We hope to publish it and make it available to all emergency personnel.?
McMichael and her team have started in-person training sessions for local police and emergency responders. They also created a 10-minute online video that they hope will circulate throughout the country in a nationwide education effort.
Ashley Mitek, a veterinarian who works in the college?s Office of Public Engagement, was one of the speakers on the video. She says it is a great first step in getting the word out about the importance of training staff how to deal with canines in need.
?The thing that has been really fun is the different people who have watched the video, now they feel comfortable treating the dogs if they overdose,? she says.?It?s fun to hear those stories and to know they can handle a situation if it happens.?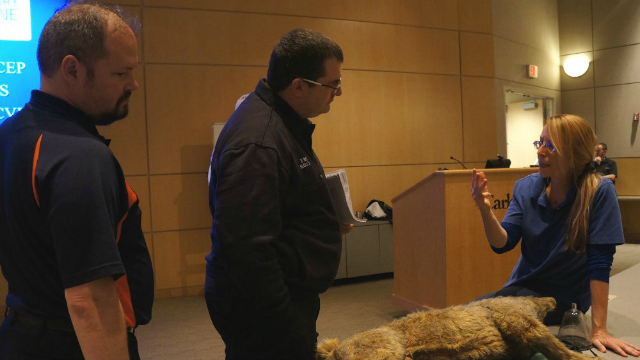 The long overdue attention to canine care came about partly because of the opioid epidemic that has been hitting the area and the nation. Fentanyl has been estimated as 50 times as powerful as heroin and carfentanil as another 100 times more potent. Just a miniscule speck of one of those substances could be deadly for a dog if inhaled.
?Humans are getting exposed and overdosing,? McMichael said. ?Drug enforcement officers going into these areas are getting exposed to the powder. Dogs are getting exposed searching for drugs and dying.?
The effects are both economic and emotional. Finding and training a dog for police duty can cost well over $10,000. Even more than that, they become part of the police team and part of an officer?s family.
Deputy Sheriff Chad Beasley sees the good a canine can do on a daily basis. He has worked with a Dutch shepherd named Arco for more than three years, taking him out on the night shift that runs until 3 a.m. most nights. He says the relationship they have built together goes well beyond the force.
?They?re a dog, but it?s more than that. He?s literally with me more than my wife,? Beasley says. ?He comes home with me at night. You know how dogs are. They love you no matter what.?
Beasley just participated in McMichael?s training session, giving it rave reviews.
?We?re fortunate to have U of I here,? he says. ?It?s a teaching school. It?s been a bonus to have an animal emergency room and a people room. It?s really cool.?
The bill, which permits ambulances to transport police dogs to a hospital if injured in the line of duty and is available, has already passed through the Illinois House and is on its way to a vote in the Senate. A similar bill in New York State has already been enacted.
?What we hope to come out of these collaborations is that it really does need to be a group effort,? Mitek says. ?We need everybody at the table. Not just veterinarians, not just physicians, but regulatory agencies and others.?
In the meantime, she and McMichael will be out educating as many people as she can in order to keep the hardest working animals on the force safe.