John Tolley,

April 11, 2017

The Smithsonian National Portrait Gallery is a museum of static items: paintings, photographs and various statuaries. It is a place to quietly reflect upon the lives of monumental people as Frederick Douglass, Mary Cassatt, George Washington, Barack Obama and Osceola.

Once a year, though, the museum?s exhibits spring to life, thanks to students from the University of Maryland?s School of Theatre, Dance and Performing Arts, who bring to life, in rich detail, the stories of the Gallery?s subjects.

Visitors are invited to tour the museum with a docent portraying someone enshrined therein, along the way stopping to hear original monologues illuminating other historical figures that grace the halls.

The performance, entitled ?The Measure of Our Lives,? is the culmination of the students? work in Professor Leslie Felbain?s character development class, created in partnership with the Library of Congress and the Smithsonian.
?The students get the opportunity to involve themselves in dramaturgical research, really immersing themselves in the environment of history, politics, sociology and the world,? Felbain tells Terp magazine. ?They?re really getting to go from an isolated world of an acting studio into engaging and accessing these fabulous resources, stepping out of the comfort zone of the studio.?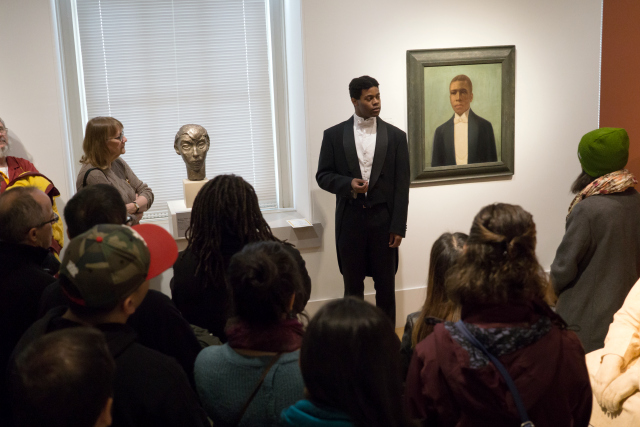 Summer Brooks, who portrayed the famous contralto and civil rights activist Marian Anderson, was excited to dive deep into the life of such an iconic figure, from her art to her politics to the slightest of her mannerisms. It was a chance for her and the other students, she says, to push the boundaries of performance.
?So much of this performance is improvised. We have no idea what the audience members are going to ask while we?re on the tour,? says Brooks, in an interview with the National Portrait Gallery Blog. ?As actors, we must trust our in-depth knowledge of our historical figure, be in the moment, and have fun!?
Brooks found that by embodying the portraits and statues in the galleries, not only do the normally passive visitors get a chance to become an engaged audience, but that by putting these figures? humanity on display rich connections are made.
?The actors portray such an eclectic group of historical figures that each audience member is bound to learn something new. The lives and legacies of these people go far beyond what?s on the museum plaque. ?The Measure of Our Lives? is a powerful piece that allows guests to listen and interact with a portrait that they otherwise might have walked by. The actors reveal the ?ordinary? of the extraordinary people.?