Scott Smith,

April 7, 2017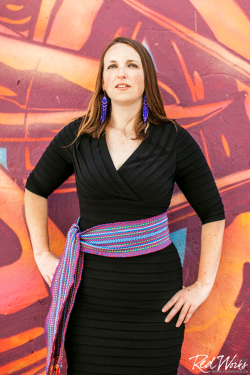 When it comes to Dr. Elizabeth LaPensée?s work creating video games with a Native American sensibility, the Michigan State assistant professor doesn't just think about her current project, she also considers the world 150 years into the future.
LaPensée is Anishinaabe, Métis, and Irish with a game design method rooted in a communal belief. ?Our understanding is you always check in with your elders and you have a particular council,? she says. ?We think seven generations ahead. And we?re thinking seven generations behind. I?m not trying to be the first ever or the original or anything like that because there?s an understanding that you never are and that you?re building off of those that came before you.?
In LaPensée?s field, this approach might beget Invaders, a mobile-based mashup of early gaming hit Space Invaders, which replaces the laser cannon and space setting with an indigenous person on the plains firing arrows at incoming land-grabbers. Or it could create Coyote Quest, a browser-based educational game that teaches physics concepts with the help of community elders and a trickster coyote.
For her efforts, LaPensée was recently awarded the 2017 Serious Games Community Leadership Award from the International Game Developers Association.
LaPensee spoke with LiveBIG about what it means to make serious games, why giving games an indigenous identity is about more than just representation and how games can create community.
BTN LiveBIG: What was the first game you remember playing?
Dr. Elizabeth LaPensée: Joust. That was not the first game I played, but it was the first game I ever really, really loved. It?s an amazing game. The openness of it allowed you to maybe be friends with the people you?re playing with or maybe not.
BTN LiveBIG: How did gaming as a career get started for you?
LaPensée: I was always looking for a representation of myself, a native woman. Even now that?s not the case. I think there?s still hesitance over a powerful, indigenous, female player-character.
I realized very quickly if I was ever going to be able to play the games I wanted to play I had to learn how to make them myself.
BTN LiveBIG: What?s the difference between serious games and games that are more about entertainment?
LaPensée: Serious games are still entertaining games, but they also have another purpose or another angle on them.
BTN LiveBIG: Your work has a ground-up approach to including indigenous communities, particularly the educational games. How do you see this representation in games that have a broader audience or entertainment purpose?
LaPensée: Never Alone is an incredible example of an indigenous game which involved community members and created a role for [writer] Ishmael Hope.
Another example coming up is [Doom developer] John Romero?s current game. He?s working on a first-person shooter, which has, as the lead player-character, an indigenous scientist. This is particularly important – that we don?t just get stuck in tropes; there?s a tendency toward a native warrior character taking a lead role. Or a half-breed hero.
BTN LiveBIG: Most people can understand the need for diverse representation in education or politics. Why is diverse representation so important in gaming?
LaPensée: It?s about appealing to indigenous players as well as changing our understanding of stereotypes. My hope is to come up with ways of interacting through games which echo [indigenous] teachings or echo our traditional games.
So when you?re playing The Gift of Food, a game I worked on, the core mechanics are based on the qualities that the community deemed important like generosity, gratitude, stewardship and collaboration, which is not typically something you?ll find in a board game. You?ll usually find actions like backstabbing and stealing and marking territory. (Laughs.)
It goes far beyond representation. My work is not just about how do you represent someone correctly or accurately. It?s also about how do we bring in our perspectives in ways that actually influence the design itself.
BTN LiveBIG: Do you see an application in this approach for educational efforts?
LaPensée: I think that it should be the norm. I would hope for it to be the norm: if someone is going to portray a community in a game that they actually directly involve that community. And not just as consultants but give them meaningful roles, have their hands on the art, build capacity for communities.
BTN LiveBIG: How has Michigan State been a good place for this work?
LaPensée: What?s interesting about Michigan State is at the Master?s level there?s a fully online certificate in serious games. So if you?re someone who has no experience developing games whatsoever and you want a way to understand this work from your unique perspective then that?s a program that?s open to anyone. A program like [that] is a great pathway to making that possible because it?s so open-ended. The game design program I?m a part of now is number one in the Big 10.
BTN LiveBIG: What sort of experiences connect online and offline games?
LaPensée: What I?m going for is intergenerational gameplay. So that would be grandparents with grandchildren. And so board games allow for that experience quite easily. And elders feel more comfortable playing board games or paper games. There?s less of an access hesitance on their part.
Now, having said that, Mikan, the little mobile game I made, I?ve heard of grandparents sitting with their grandchildren and playing that. They?re both playing together, basically. They love it. And that?s a place where it?s a younger generation bringing that technology to an older generation.
If you?re a part of a community and you?re making a game for a community, you?re not treating people as players, they?re always going to be your peers. It?s a different relationship that you have with your players. It?s not like a top-down ?I?m the designer and I say how this experience is supposed to be for you.? It?s ?I?m here to work in your service. What can I do to make this a better experience for you??