John Tolley,

March 18, 2017

It was once said the Shinnecock band of Native Americans were such able seamen that rarely a ship left the ports of eastern Long Island without at least one Shinnecock man on board. And when recruits were needed to fill the ranks of the U.S. Life-Saving Service - a precursor to our modern Coast Guard - at the turn of the last century, brave Shinnecock heeded the call.

But despite their heroism and intrepid nature, the story of the Shinnecock Nation is, unfortunately, much like that of other Native American nations of the U.S.: rife with marginalization, disease, deceit and decline.

Penn State grad Jeremy Dennis (MFA ?16) is looking to change that, though, one photograph at a time.

Dennis, who grew up on the Shinnecock reservation, is documenting the places that are culturally significant to his people through a project he?s calling ?On This Site.?

?Back in 2013, I got the idea for this project from hearing about activists and archaeologists, both tribal and non-indigenous people,? he says. ?When I was growing up, you don?t really hear about your own personal history or ancestral history as a Native American student. I hope that I can bring up the history of these specific sites and show their significance and bring power back to the Shinnecock nation.?

With help and encouragement from a relative, the noted photographer Herbert Randall, Dennis set about researching the history of his people and the other interconnected indigenous tribes of Long Island.

Many of those sites are hiding in plain view, like Konkhunganik, a spot near Fort Pond in Montauk that served as an important camp for generations of Shinnecock hunters. Some, however, have been ravaged by progress, like Sachem?s Hole. The hallowed place of rest for the body of Sachem, or chief, Poggatacut, the site, also known as Buc-usk-kil, was, for years, meticulously tended to by the Shinnecock, but now sits paved over by Turnpike 114.

Dennis? desire is to turn these forgotten and overlooked spots into dynamic and engaging art that asks questions about how we interact with our past.

?A lot of the information that first seems like it?s in the past and it?s dead and there?s nothing you can do with [it] is, in reality, sort of an eternal knowledge that will always be important,? notes Dennis. ?This project will help some of the tribal members know their own history and they?ll learn a little bit more about themselves and their traditional customs.?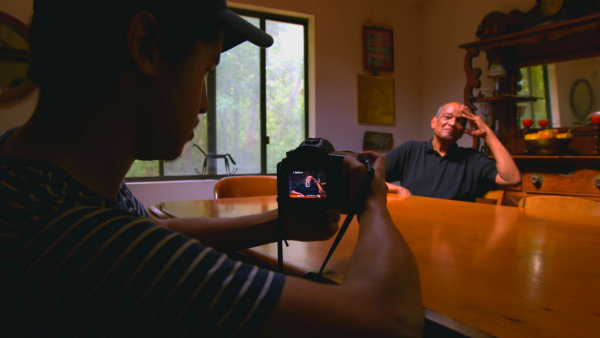 A $10,000 grant from the organization Running Strong for American Indian Youth has allowed Dennis to pursue the ?On This Site? project and make plans for an exhibition and companion book. For the time being, though, the bulk of his research and photographic work is available to the public through the project?s website, which is something that Dennis hopes he and other young Native American researchers and artists can continue to grow for generations to come.
?I hope that, in a couple of years, the youth will take the reins of the project and continue it,? he says. ?One of the myths that I try to dispel is that history just ends for indigenous people. But with this
project, I?m revealing indigenous histories, colonial history, and even contemporary histories that are forming today.?