Scott Smith,

February 17, 2017

When asked to explain the hardest part of his job, NASA flight director Gary Horlacher laughs.

After a few seconds in thought, the Purdue University grad answers with a phrase that leaves plenty of room for elaboration, but little opportunity for doubt.

?The intense expectation of perfection.?

Horlacher?s tone suggests he?s being matter-of-fact, not dramatic. As flight director for a March 2018 mission to the International Space Station, the weight of the job is always in the back of his mind.

?You?re responsible for an international multi-billion-dollar vehicle and pretty much what multiple countries? space programs are hanging on.?

In some ways, you could say he?s spent his entire professional life working on it.
Countdown
Horlacher was born in Pennsylvania, but grew up in Northwest Indiana. He began his work at NASA as a contractor, just after graduating from Purdue in 1989 with a bachelor?s degree in engineering.
Though he started there right out of college, working at NASA wasn?t his goal when he started at Purdue. ?It did not become part of my plan ?til my late sophomore to early junior year,? says Horlacher. ?I came down [to the Johnson Space Center in Texas] and visited a Purdue colleague. That?s when the inspiration came to me that I gotta figure out how to get a job in the space business.?
Though he grew up as the son of a steelworker, surrounded by Indiana corn, his visit with a fellow Boilermaker and Purdue?s aeronautics school were enough inspiration to set him on a path to NASA. Perhaps some of this explains why Purdue is referred to as ?the cradle of astronauts? and boasts 23 alums in the space program. (Purdue?s presence in NASA is so strong that two other alums, Drew Feustel and Scott Tingle, will also be a part of Horlacher?s mission.)
?They have a new [Neil] Armstrong Hall of Engineering, which is focused on space,? says Horlacher. ?You see space capsules hanging from the ceiling. You can?t not be inspired just walking into a building down there now and thinking ?Purdue students have done all this stuff.??
Ignition
After contract work in NASA?s Instrumentation and Communications discipline and full-time stints with other space technology companies and a master?s in space sciences, NASA hired Horlacher full-time in 2006. He became a flight director with the shuttle program in 2008 and directed the second-to-last shuttle program flight: the final mission of the shuttle Endeavour. Though the shuttle program ended in 2011, it still looms large in Horlacher?s experience.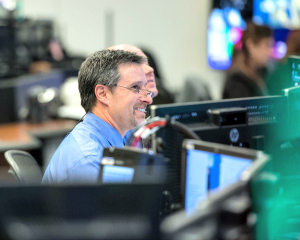 ?The space station is an absolutely amazing program,? he says. ?If you really take a close look at what we?re accomplishing, with all the partners around the globe, and how this all came together, the shuttle was a key piece to making that assembly even possible.?
Asked to elaborate on his work as flight director for the International Space Station missions, Horlacher describes it as being ?the captain of the ship.?
?The flight director is responsible for crew safety, vehicle safety and the entire mission program,? he says. In the case of Expedition 55?s two-month mission, the program includes some crew change-outs, delivery of food, science experiments and hardware via U.S., Japanese and Russian cargo vehicles and some U.S. and Russian EVAs (extra vehicular activities, otherwise known as spacewalks).
During the mission, Horlacher will be in the control center focused on the days, weeks and months ahead, managing the real-time, constantly shifting priorities and needs of the crew. He?ll spend five days a week in 6am to 5pm shifts, with occasional weekend days, but will always be on-call in case of urgent needs. Despite the long history of spaceflight, Horlacher stresses that no mission is routine. With lives in the balance, the intense expectation of perfection is always there.
Orbit
While the expectations may not have changed, the methods have. With the retirement of the shuttle program, NASA?s manned missions are planned with the agency?s counterparts from Japan, Europe and, most often, Russia; the Russians? Soyuz capsule vehicles are the only spacecraft carrying human beings to the International Space Station.
Horlacher says that whatever tensions may exist in Washington, D.C. between the U.S. and Russia or any other countries, he and the rest of the team do not see politics within their mission parameters. Space exploration is, in some ways, its own form of international diplomacy.
?We have been through similar rising tensions between multiple countries in the past and it?s never affected our space partnership. And that?s a great thing,? says Horlacher. ?From all the Russian colleagues that I?ve worked with directly and indirectly, we?ve never had any real concerns about what the politics of the world are doing. We?re focused on the mission, our crew that are on board and we?re united in what we?re doing.?
Horlacher and NASA believe there are still frontiers left to explore outside of low Earth orbit. The agency is at work on some deep space exploration projects, including a NASA-led vehicle called Orion. This vehicle could mean a return to the Earth?s Moon, which would be a stepping stone to landing human beings on Mars by 2030.
But it could happen sooner. ?It really comes down to national will,? Horlacher says. ?Will at the Washington level. It?s a commitment beyond a four-year Presidential [election] cycle. If we made the commitment, we could be there probably in the early-to-mid-[20]20s.?
If missions to the Moon or Mars end up on the docket, Horlacher would be the first to volunteer for duty. ?I would love to see us take that step before I retire. It?d be a great way to end a super space career.?
Inset photo: Lauren Harnett