John Tolley,

January 30, 2017

In 2016, Hurricane Matthew wreaked havoc upon the Atlantic seaboard and Caribbean islands. A Category 5 storm, Matthew?s effects were felt as far north as the Canada. Some of Matthew?s worst devastation, however, was visited upon the poor and vulnerable nation of Haiti.

The problems facing Haiti are complex and manifold, and when hurricanes batter the shores and flood the land, the country groans under the weight of those ravages.

Recently, students from two Big Ten schools visited the country in an effort to aid the Haitian people in creating sustainable solutions in the Matthew?s aftermath.

Two host institutions sponsored students from Purdue on a visit to the island in an effort to share their knowledge surrounding agriculture and food security. The trip culminated in an educational symposium for Haitian students. It was an opportunity for the students to step outside their comfort zone noted Mark Russell, trip leader and head of Purdue?s Department of Youth Development and Agricultural Education.
"We're all experts in our narrow little view of the world, but we don't listen," said Russell, speaking to the Purdue Exponent website. "The real motivator as a teacher, for me, is that I'm trying to take students out of their comfort zone enough that they will actually learn more about themselves and become more self-aware about who they are and how to work with different people."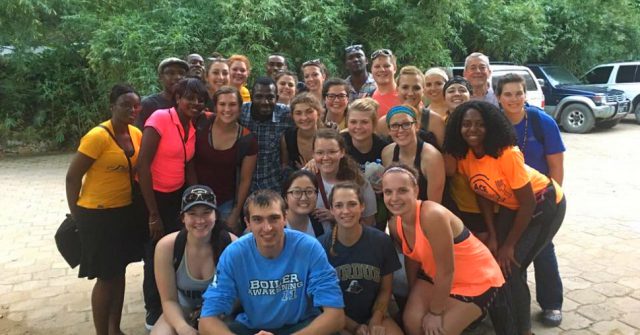 Researchers from Michigan State University also shared agricultural know-how with the Haitian people. In the southwest region of the country, an area which bore Matthew?s full force, bean production is a way of life. The devastation to local crops left many not just hungry, but penniless as well.
With $2,000,000 in funding from USAID?s Mission to Haiti program, MSU is helping to jump start the local bean industry. Their ?Mwen Gen Pwa? (Haitian Creole for ?I Have Beans?) initiative, operated by the university?s Feed the Future Legume Innovation Lab, is distributing high-yield bean varietals to farmers over the course of the region?s multiple growing seasons.
?The Feed the Future Legume Innovation Lab?s extensive network of seed producers and collaborators in Central America, the Caribbean and the U.S. ensured that the required quantities of bean seed would come from reputable seed producers,? said Luis Flores, project coordinator at MSU, speaking to the MSU Today. ?Since the hurricane-affected region has multiple planting seasons, the first distribution of seed will begin in January and continue through August 2017.?
Flores said that Mwen Gen Pwa?s minimum goal is to provide beans to 6,000 area farms. The group also plans to distribute educational materials surrounding the new varietals as well.
For both universities, there is recognition that the work being done in Haiti could be the start of last relationship, one that benefits not just the Haitian people, but the students as well.