John Tolley,

January 29, 2017
The Problem
The Nebraska State Museum on the campus of the University of Nebraska-Lincoln is one of the state?s most cherished institutions. It is a repository of artifacts and fossils that documents the living landscape of the rugged and wind-swept prairie state.
But, the museum has a growing problem with decreasing attendance among one particular population: school children.
?Teachers don?t have time, nor money to come to this fabulous treasure,? says Kathy French, the museum?s education coordinator.
Another compounding factor, she adds, is that Nebraska is a large state, measuring over 400 miles from the Missouri River to the Wyoming border. While the museum?s location in eastern Lincoln puts it close to the majority of Nebraskans, it is well out of the reach of students in the state?s rural south and west. ?A lot of times, these students don?t even know they have a state natural history museum.?
The Idea
Faced with a dearth of school groups filling their halls, French and others at the museum decided to take their show on the road, digitally speaking, through an innovative program called Virtual Field Trips.
?Our goal as a museum is to spark discovery and passion for the natural world,? says Annie Mumgaard, virtual learning coordinator at the Natural History Museum. ?A virtual field trip is just a twenty-first century tool to break down our walls to be able to do that anywhere in the world.?
With nothing more than a pair of digital video cameras, a couple of flat screen TVs, and a good internet connection, Mumgaard is able to take children from across Nebraska on an in-depth tour through the museum. The participating class also receives ?dig boxes? of hands-on materials, such as fossil reproductions, making the tour an interactive learning experience.
An added bonus, notes Mumgaard, is that Virtual Field Trips allow students a one-of-a-kind, up close look at the museum?s collection not afforded to regular visitors. With her camera crew, she actually takes the kids on a tour ?beyond the velvet rope.?
?I can take you into the mouth of the elephants,? Mumgaard points out. ?It?s a very unique way of experiencing our museum because you can get up close and personal in a way you can?t when you walk in the halls.?
Next Steps
Now in its third year, the Virtual Field Trip program is helping to move museums from Nebraska and beyond into the digital space.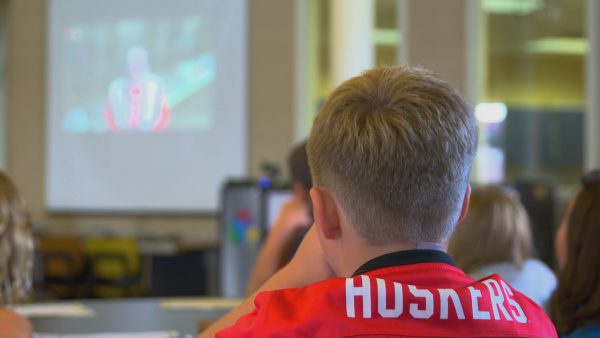 ?We are a leader in our state,? says French. ?Other institutions are looking at us for guidance and inspiration for how they can do [a program like this] as well.?
The program also bolsters kids? interest in the living history of Nebraska; that?s something that French says might just pay off in dividends for the museum and the research community down the road.
?We?re doing a little recruiting for science. We?re looking for the future scientists and educators.?