Betsy Piland,

January 20, 2017

Books-simple things that amount to a stack of paper or, more recently, a digital file-wield a surprising amount of power. A good one sticks in your head. It can change how you think about the world. It challenges and inspires you.

University of Iowa education professors Amanda Thein and Renita Schmidt are confident in this.

Thein and Schmidt lead Strong Girls Read Strong Books, an after-school book club for fourth-, fifth- and sixth-grade students. For five years they?ve been leading weekly discussions on books that share one common theme: strong female protagonists.

The violent death of a friend and fellow literacy educator sparked Thein and Schmidt to action. ?As women and readers, we know literature affects lives,? they wrote. ?We were reminded through this awful event that there is still a great deal of work to be done in learning how literature can help girls become strong, empowered women.?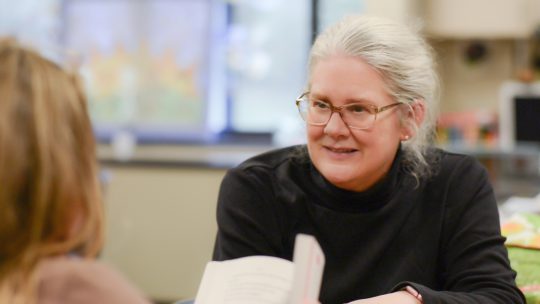 Schmidt builds on these thoughts in a recent interview. ?[Thein] and I are also feminist teacher educators and we know that women continue to fight for equality in the world,? she says. ?This project is our attempt to make a difference in that regard.? Thein said that she and Schmidt realized that their research, along with their collective professional and personal experiences, taught them that reading matters to students? social, emotional, and cognitive development.
?We started the Strong Girls Read Strong Books project because we wanted to know more about how reading books with strong girl protagonists in an afterschool context might help young girls develop reading efficacy and consider multiple pathways to becoming strong women,? says Thein.
More than 250 girls participate in the program have participated in the Strong Girls Read Strong Books program. From 3-5 p.m. each Friday, Thein, Schmidt and a group of Iowa education undergrad and graduate students meet with 35-40 girls at a local elementary school. ?We welcome all students who identify as girls regardless of English proficiency, reading ability, or any other social, emotional or academic factor,? says Thein.
They share a snack, break into groups and then reconvene to talk about the characters and stories. Thein explains, ?We read out loud, in pairs, and even together as a choral performance. Girls keep reading journals, participate in creative writing, and engage in artistic and dramatic response.?
So, what makes a ?strong girl?? Is it Kristy Thomas, founder and president of The Baby-Sitters Club? Is it Dorothy-or even the Wicked Witch of the West-from The Wizard of Oz? And with the binary notion of gender fading, who is or is not considered a girl? These complex questions led to the development of a long and diverse list of books.
?Strong girls can be many things,? Thein says. ?And we don?t always think strong girls need to be likeable or ?nice? in any prototypical way. Real girls have flaws and so do strong girl characters, but strong girls stay true to themselves and stand up for what they believe.?
?We aim to bring the girls a wide array of texts-picture books, novels, graphic novels, novels written in verse, poetry, and nonfiction texts. Our goal is to introduce girls to books that both represent and provide generative contrasts to their lived experiences-this means that the books we offer depict a diversity of experiences of being a young girl. In common, the books we select depict characters who negotiate what it means to be a strong girl and to develop agency within the constraints and freedoms of specific social and cultural contexts. Moreover, we work to bring girls books that are challenging, accessible, and engaging.?
The flood of positive feedback from students, teachers and parents help add fuel to Thein and Schmidt?s research. ?We are qualitative researchers who want to be present when the work is occurring,? says Thein. ?We are full-time professors and this is just one aspect of our work.? Thein and Schmidt are happy to provide suggestions for others who might want to start their own program.
Books literally grow on trees, but money does not. Strong Girls is supported by various grants from the University of Iowa College of Education, the Iowa Women?s Foundation and the Dollar General Literacy Foundation. These grants allow Thein and Schmidt to purchase books that participants get to keep and add to their own home libraries.
Teachers and parents have reported that Strong Girls helps girls grow in both confidence and their reading ability. ?Most importantly for us, girls who leave the program at the end of sixth grade have told us how important the program has been for them in thinking about what it means to be strong young women,? says Thein.
?They tell us that they see multiple pathways to strength, agency and fulfillment and that they understand the importance of supporting other young women-as a community of women-in developing their identities.?