Matthew Wood,

December 31, 2016

Wearable skin patches have seen a surge in popularity with everyone from athletes to medical patients. A pair of teams from Big Ten universities are looking to take the research on these devices to the next level.

The key ingredient: sweat.

Teams headed by Purdue University biomedical engineering and electrical and computer engineering professor Babak Ziaie and Northwestern University material sciences and engineering professor John Rogers each have prototypes of products that gather sweat on the body to learn more about what a user might be lacking.

Ziaie?s patch measures hydration in the body, letting the user know when he or she is becoming dehydrated. The patch consists of a piece of filter paper with two adhesives that can stick to the body and contains microchannels of water-activated dye that indicate moisture loss. The active layer has wicking properties to keep the device attached to the body while collecting sweat. As the user?s sweat increases, the strips activate and change colors from blue to red in order to identify potential dehydration.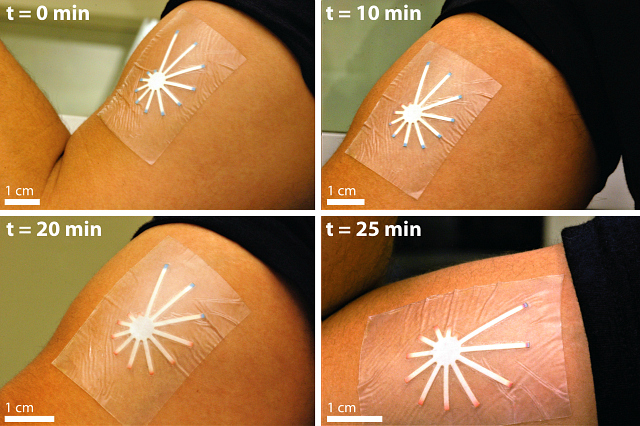 ?We can do something very simple just by changing color based on hydration. It?s just a matter of putting sensors on paper,? Ziaie says. ?I like simple solutions for problems. I think it has to be simple for it to be adapted. It?s very easy to make on a larger scale. You can sell these things and get it to market for a few pennies.?
In fact, his team of students is already looking at the next steps, joining up with Purdue?s business school to learn the entrepreneurial side of the technology. They hope to start a company from the project sometime this spring.
?There is lots of interest,? he says. ?We are doing some beta testing in the next couple of months. People want to use this to evaluate it. My students are very entrepreneurial. They really want to start a company. They?ve gone through entrepreneurial training and done a lot of market research. We?re going to get the company started early.?
Rogers is using a similar product and taking it a step further. Recently transplanted from the University of Illinois, his team across both schools is working to build a product that could measure pH acidity, lactose and chloride levels while tracking other diagnostics in the body. It could eventually provide a bloodless screening for diabetes.
He describes his product as more of a skin-like substance.
?We don?t refer to it as a patch, because that connotes a fabric,? he says. This is latex-like and embeds these channels. We?re able to measure these biomarkers but also able to quantify sweat loss and sweat rate. There are so many things you can do with that technology. It?s the next generation of wearables.?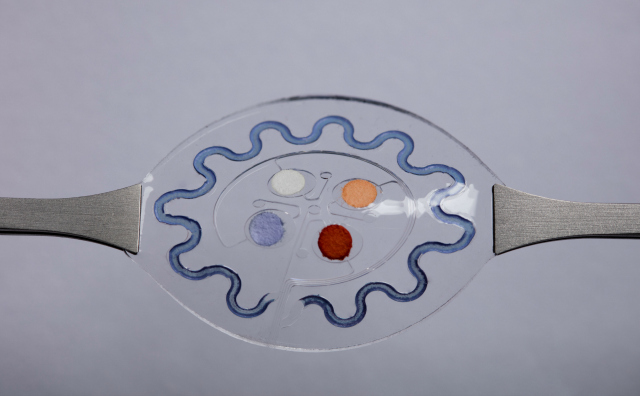 Rogers? team has already done extensive testing in a number of areas, benefitting from the help of outside resources. The United States military has helped with funding, along with cosmetics maker L?Oreal and a sports beverage maker and sports league have both shown interest in the product (Rogers declined to name both until something more substantial is agreed upon).
Rogers said the Air Force wants to track the health status of airmen soldiers while they are out on duty, leading to the request for testing. L?Oreal wants to learn more about non-invasive technology for skin health.
The work of Rogers and his team was recently published in the online edition of the journal Science Translational Medicine. But Rogers says that?s just the beginning.
?To get things into the commercial world, we typically do startups and could work with them,? Rogers says. ?The technology works. We?ve had at least 100 to 200 devices tested in the field. By comparison to the technical maturity of other engineering advances, we?re way down the road in terms of getting it ready.
?We?ve done it before, so it?s nothing terrible new. But if all we do is publish a paper, we feel like we?ve fallen short.?
Ziaie said it?s been so great to see his students want to take their research to the next level.
?You have to find the right students,? he says. ?They have to be interested themselves in the entrepreneurial side of it. To have students who can push this is really rewarding to me. I want to see this become a product. That?s what I want to see.?