Scott Smith,

November 18, 2016

When it comes to more efficient uses of energy, the Big Ten is no stranger to sustainability efforts, big and small. Don?t just take our word for it: the Environmental Protection Agency agrees.

As part of the EPA?s Green Power Partnership, the agency releases a set of annual lists praising its top partners in retail, government, tech and other areas.

This year five of the 30 spots on the list of top colleges and universities participating in the Green Power Partnership are Big Ten schools: Ohio State, Northwestern, Maryland, Wisconsin and Illinois.

To learn more about big-picture sustainability efforts in the Big Ten, we spoke Stephanie Folk, communications manager at Northwestern?s Office of Sustainability, and Scott Potter, senior energy advisor in the Office of Energy and Environment at Ohio State.

The EPA says Northwestern gets the equivalent of 50% of the university?s energy from ?green power.? According to Folk, Northwestern?s efforts focus on the purchase of renewable energy certificates, which support production of renewable suppliers.

Additional opportunities come from construction efforts. ?Every time we have a major renovation or a new construction project, energy efficiency is a big part of that,? says Folk. She cites the renovation of Kresge Hall as an example. First built in 1955, it re-opened this fall with several energy-saving features like efficient insulation, sealed windows and a cooling system that serves approximately 160 buildings on campus.

The Central Utility plant on campus generates the chilled water for these buildings, which is far more efficient than cooling the water in each individual building, working at a lower total electrical demand because it uses far less equipment.

Kresge also boasts a 254-panel solar array on its roof which supplies 81 kilowatts of electricity, providing about 5% of the building?s electricity use. It?s the second solar array installed on campus, the first of which was the Centennial Solar Power System on the Ford Motor Company Engineering Design Center building. Installed in 2011, the CSPS produces 16.8 kilowatts for the building, enough to power one computer lab. The campus has committed to building one new solar array per year, based on the rate of new construction.

The school even encourages staff and students to make small changes like closing the fume hoods in labs to ensure they?re not always running – the scientist equivalent of turning off the lights after you leave a room.

Meanwhile, Northwestern?s Kellogg School and its visitors? center use geothermal energy and the university is pursuing other renewable energy goals like electric vehicles for its fleet and LEED certification for all new construction. A strategic plan for all its energy efforts will be released by early 2017 with the goal of a 20% reduction in campus energy consumption by the year 2020.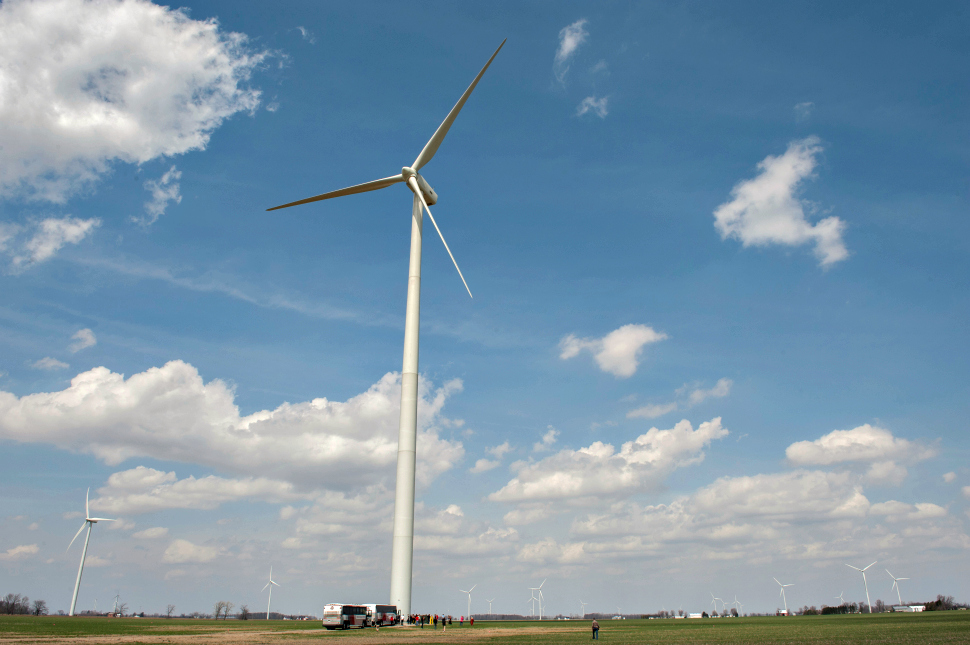 As for Ohio State, a significant part of its sustainability efforts come from its partnership with the Blue Creek Wind Farm, which dates back to 2012.
Blue Creek, run by Avangrid Renewables, is Ohio?s largest wind farm. ?Our Power Purchase Agreement (PPA) with Blue Creek provides approximately 133,000 MWh of renewable energy to the grid,? says Scott Potter in the Office of Energy and Environment. ?That is equivalent to about 20% of the Columbus Campus load.?
Potter says for the first two years of the agreement, Blue Creek provided the cheapest power on campus, about $4 million cheaper than if it contracted with its primary provider.
The partnership with Blue Creek has not just paid financial dividends, but academic ones as well. These benefits include tours of the facility for students and faculty, in-classroom speakers from the company and an exclusive agreement that gives Ohio State access to Blue Creek?s data on production and weather.
Ohio State?s work toward carbon neutrality is ongoing. Potter says the campus is close to the end of a three-year-long process to find ?a comprehensive energy management firm? to manage the supply, use and management of energy on campus.
?We put together [a request for quotation] that said ?Is there a firm or firms who could manage the supply – go out and find cheap, economic, reliable energy that is of a fuel mix we want – manage our on-campus utility system – we?re a small city – and also make all of our utility operations, all of our buildings more efficient???
For more on sustainability projects in the Big Ten, click here.