Matthew Wood,

October 14, 2016

Ever wonder how the aerodynamics of your car are optimized for best engine output? Probably not.

That?s because the team of University of Wisconsin-Madison grads at Convergent Science most likely had a hand in making sure your engine hums along without you having to think about it.

The four partners that started the company nearly a decade ago developed software that manages an engine?s computational fluid dynamics (CFD), which is used to analyze a vehicle?s aerodynamics. CFD affects everything from the way air flows around the car to how the engine converts gasoline to power. The software, called CONVERGE, is now used by a number of major automotive companies, including Ford, GM, Chrysler and Mazda.

?We basically came up with a way to make it easier for an engineer to use CFD design,? says company vice president Kelly Senecal. ?It?s a really difficult problem because you?re not just solving for fluid dynamics. You have combustion, emissions and you?re tracking with the geometrics. There are a lot of variables and a lot of things that make CFD difficult [that] are included in this application.?

The company came about after Senecal joined forces with three other graduates of Wisconsin?s renowned engine research center. Working as consultants, they decided to form a business with the knowledge they had gained from the center.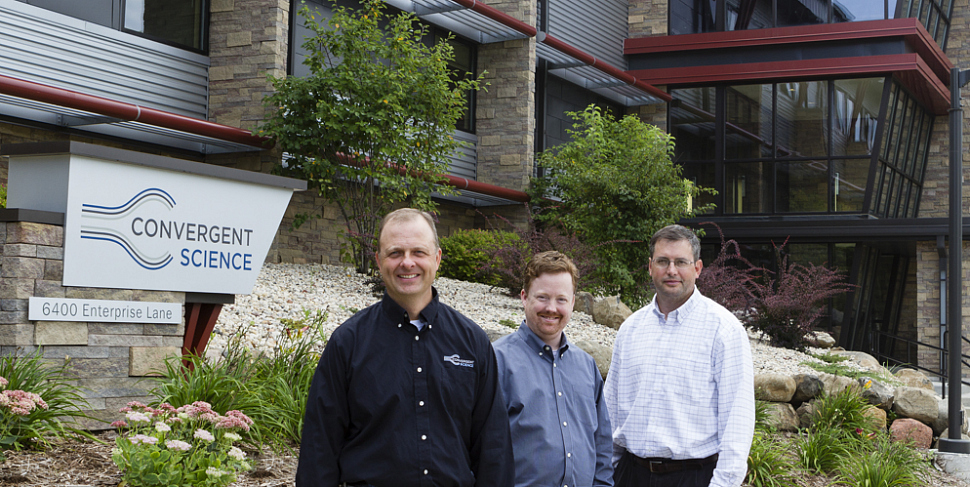 That was around 2008. Much to their dismay, it coincided with the automotive crisis that crippled a number of car producers.
?If you remember, that was a really bad year,? Senecal says. ?We were new to the market when people really didn?t have any money. Because of all of this, they were really looking for something more efficient. We came along and said we could do it cheaper, faster and better than our competitors. In this bad time, especially for automotive, we started taking off.?
In the beginning the road was definitely not paved with gold. The hardest part was getting big automotive companies — who already had systems set up — to see the value in what they provided. That usually meant small contracts so the Convergent team could show their worth.
?After we got over that hurdle, they started taking us seriously,? Senecal says. ?The sales cycle, we?re talking six months to a year. They want to make sure your stuff can reproduce what they do, and then a lot more than what they can do.?
That success has led to an 80-employee company with offices in Detroit, Texas and Austria, along with the main headquarters in Madison.
The four partners are all referred to as vice presidents, and for good reason.
?We run the company like a partnership, there?s no one person in charge,? Senecal says. ?When we became incorporated, we didn?t want to change it because it worked really well.?
He says that collaborative attitude began during their time at Wisconsin.
?The environment there, and especially the engine research department, a collaborative environment was fostered there,? Senecal says. ?People were really encouraged to work together. By fostering that kind of environment, that?s how we really came together. If it wasn?t for that, we may never have thought of this idea and create something great.?
Senecal sees a growth industry for the company, which is setting its sights on the European market, as well as developing new software that make systems easier for more engineers.
?We want to take advantage of other applications like the gas turbine compressor, or pumps and compressors,? he says. ?So what we?re doing is identifying these other markets where people had pain in the ICF field, they have the same thing in these others. We?re looking to grow in these new markets.?
In other words, the engine is just starting to rev.