John Tolley,

October 12, 2016

Here at LiveBIG we get to write a lot about engineering and science. See for yourself; enter engineering or science or STEM in the search bar. Go ahead; we?ll wait? see?

We also get to write quite a bit about the arts. But rare is the occasion that we get to cover both in one piece. And that is exactly what makes Northwestern University?s ETOPiA program unique.

According to the program?s website, ?ETOPiA: Engineering Transdisciplinary Outreach Project in the Arts uses performance arts staged in the McCormick School of Engineering and Applied Sciences to inspire a cross-disciplinary dialogue about the role of science and technology in society.?

Now in its ninth season, the program has focused mainly on live theatrical performances that revolve around that theme. This year saw a production of the musical Mill Girls about a ?group of young women in the 1840s who leave home to work in a Lowell, Massachusetts textile mill.? In past years, performances have touched on the life of Madame Marie Curie; ethics of cloning; and creativity and originality in science.

?The science and research community needs to do whatever it can to reach out to the public so they understand what science is about,? said ETOPiA founder and associate professor of electrical engineering Matthew Grayson, speaking with The Daily Northwestern in 2015. ?This is a great way to do this by telling stories which have an emotional side to them because that?s what the public connects with.?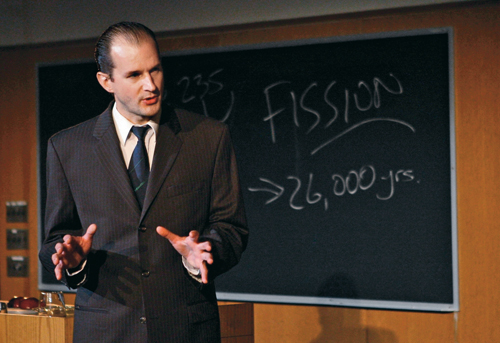 For the 2016 season, ETOPiA is branching out beyond theater as well. The Friday Night at the Movies series presents three science-based documentaries followed by discussions involving both professors and, in some cases, the actual filmmakers.
?We hope that by periodically using other forms of art, we will inspire new forms of dialogue,? explained Jing Dong, co-producer and an assistant professor of industrial engineering and management sciences, to Northwestern Now.
Friday Night at the Movie runs through the month of October. For a lineup of movies, past performances, and more information, visit ETOPiA?s website.