Adam Fluck,

October 7, 2016

At first glance, Penn State University?s Brain3M project has significant obstacles to overcome as it promotes science education and outreach.

Capturing the undivided attention of middle school students can be quite the challenge for a teacher. Factor in a subject that students commonly write off as too tough to learn and the degree of difficulty jumps to another level.

Brain3M solves for this problem by introducing students to their brains, inside and out. It teaches students in the sixth, seventh and eighth grades about the brain?s anatomy, basic functions and associated neuroscience in one of two ways: through the use of an online interactive platform that features magnetic resonance imaging brain scans and by classroom presentations that involve the use of 3D printers for plastic brain models.

As Jennifer Legault - a fifth-year graduate student studying neuroscience and an assistant in Dr. Ping Li?s Brain, Language, and Computation Lab – prepared for a school visit, she was unsure as to how the students would react to the material. Would they be open to embracing such complex subjects?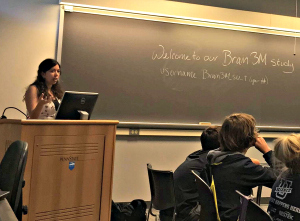 She got her answer quickly as soon as the students saw the project?s website.
?There was one student who immediately stood up from her chair and said, ?This is impressive! You guys made this? This is impressive!?? recalls Legault. ?It was a really great moment to see how excited she was beyond the general head nodding.?
According to Legault, one of the key components in reaching students begins with recognizing that different children learn in different ways.
?Depending on how an individual student best learns, we want to teach them about topics such as neuroscience in the most efficient way,? Legault explains. ?We also want to do it in interactive and fun ways so they are interested and better able to learn. That may involve learning on the computer, working with our virtual 3D models or participating in one of our presentations. We want to cater to all of the children and offer them a chance to have their learning experience tailored.?
Brain3M has visited locations such as the Young Scholars of Central Pennsylvania Charter School and the Science-U summer camp at the Penn State University Park campus. The program comes in for a week at a time and its leadership continues to be impressed by the level of interest they receive from their students.
?They?ve been very, very involved with all of the learnings and they?ve had some great questions,? states Legault. ?It has been encouraging to see kids at that age so fascinated by the topics we have presented.
?When we first tell the students what they?re going to be learning about, they tend to take a step back and wonder how they?ll do it,? Legault continues. ?They are quick to acknowledge these are difficult subjects and some are pretty skeptical they will be able to learn it. But then they see that it is an attainable goal and so many are passionate about it by the end. So that to me was very impactful.?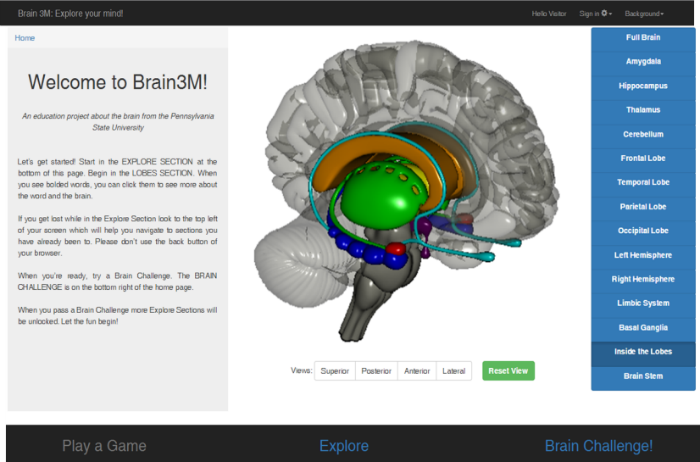 Funded by the Social Science Research Institute and the Center for Brain, Behavior, and Cognition at Penn State, Brain3M tries to enhance student?s interests in the STEM fields of science, technology, engineering, and mathematics. While acknowledging students tend to have difficulty with such disciplines, Legault feels that if students can see for themselves that becoming more educated in them is a possibility, an interest could be sparked.
?If we can help them with a difficult subject, if we can make the learning process more fun or easier to understand, that?s important,? explains Legault. ?We don?t want for students to lose interest in something because it seems too difficult. We want the ability to learn about STEM fields more accessible to a greater amount of students.?
So far, there is evidence that Brain3M?s efforts are playing off. At a science youth camp this past summer, approximately 20 students participated and across the board, students ?significantly learned the material and performed better after the training,? explained Legault, adding that most students preferred to learn via the Brain3M website.
As Brain3M moves forward, Legault says the program will look to take on additional studies and expand its focus, perhaps to astronomy. Until then, it will continue to serve as a way that Penn State?s students and faculty can increase their educational outreach.
?There are so many events and initiatives at Penn State to do this sort of thing and a lot of them are focused on teaching,? notes Legault. ?Being involved in the program has really opened my eyes to how much Penn State prioritizes integrating teaching with research and being involved in the community.?