Brent Yarina, BTN.com Senior Editor,

October 3, 2016

The Big Ten's top play of Week 5 had another brief moment Monday afternoon.

Wisconsin's George Rushing tweeted a picture of Jourdan Lewis' one-handed game-sealing interception that shows Lewis' left arm wrapped around his left side, with the text, "Ima just leave this here."

Lewis had quite the response to Rushing's tweet, which the Wisconsin receiver later deleted. Lewis also deleted his tweet and followed up with this.

See the short-lived Twitter interaction below.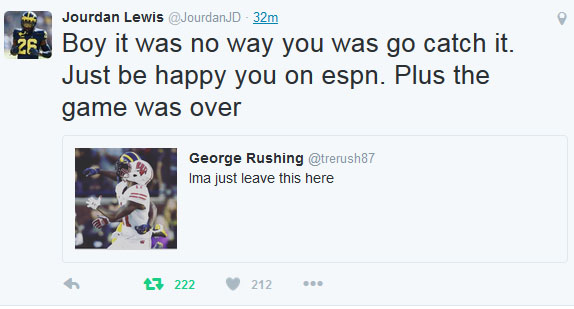 The interception was ridiculous, whether there was contact or not. Either way, the highlight sealed No. 4 Michigan's 14-7 win vs. then-No. 8 Wisconsin, and it will forever be remembered by Michigan fans.
Watch the interception in the video above, plus get a slow motion version of it below.